Toronto Raptors see broadcast boost
Numbers from Sportsnet and TSN are up, with S&E Sponsorship president Brian Cooper on how the team's playoff presence will boost the game on a national scale.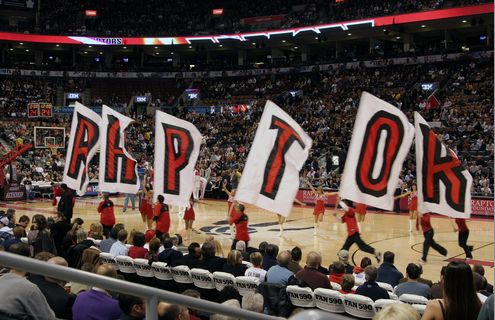 Earlier this week, the Air Canada Centre saw the Toronto Raptors hoist a division championship banner for the first time since the team's 2006-2007 season.
TSN, which broadcast 47 games this year (24 on TSN and 23 on TSN2) brought in an average audience of 206,000 on TSN, up 16% from last season. Sportsnet broadcast 29 games on Sportsnet and Sportsnet One, with an average of 130,000 between the two. Viewership of the games on the Rogers Media channels is up 31% from last season when it aired 34 games.
Numbers for the team at the gate are also up for the year, says Brian Cooper, president of S&E Sponsorship, with increased sponsorship revenue boosting the team from 11th to 7th in the league this year and gate revenue up 7%, according to numbers from the Sports Business Journal.
The Toronto Raptors head into their last regular season game tonight in first place of their division, something Cooper says will elevate anything the team does from here on out in the championship-starved sports market of Toronto. This coming from a team that he says was a tough sell for sponsors until last season.
Cooper says the Raptors have a valuable demo that is younger than that of hockey fans, hitting a core youth demo of both males and females between the ages of 12 and 17, as well as new Canadians who are coming to the country from other nations that feature basketball more prominently than Canada does. Overall, 29% of Canadians have a family member who participates in basketball, according to numbers from S&E Sponsorship.
"The level of participation in basketball in Canada has increased significantly in recent years and is open to both genders as well as being comparatively cheap to play versus other sports," he says. "All you need is a pair of running shoes and a ball."
Looking forwards, Cooper, who formerly worked as a VP with Raptors-owning company MLSE, says he expects no major changes to come from the Raptors upcoming visual identity refresh, which will be done with its new AOR Sid Lee.
Image by Dennis Ku, via Shutterstock