CTV launches digital originals platform
CTV Extend will be free to consumers and feature original content like Backpackers and Space Riders: Division Earth.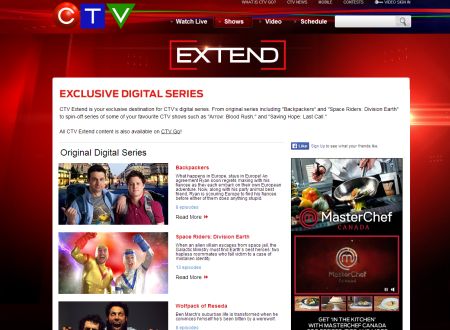 Bell Media's CTV has announced the launch of CTV Extend, a new digital hub that is free for consumers and features original and acquired digital content.
The ad-supported hub features newly commissioned digital programs like Backpackers and Space Riders: Division Earth as well as acquisitions like Guidestones and extensions of other shows like Arrow: Blood Rush and Saving Hope: Last Call.
At launch the digital hub features more than 10 series and 120 episodes of programming. The media co has also commissioned Joke or Choke, a pilot ordered exclusively for CTV Extend from executive producer Howie Mandel as well as a second season of the Emmy Award-winning Guidestones from iThentic and 3′oclock.tv, according to a release.
Backpackers is an eight part series of 11-minute episodes that follow Ryan and Beth, a recently engaged couple who decide "what happens in Europe, stays in Europe" and agree they are free to act single on their separate backpacking trips prior to their nuptials. Ryan quickly realizes they've made a mistake and sets off in search of Beth without a clue where on the contintent his fiancé could be. The series is shot in location in Prague, Rome, the Italian Rivera and Paris.
Space Riders: Division Earth is a 13 part series of six-minute episodes that follow two out-of-shape nobodies who accidentally become Earth's heroes. The Power Rangers send up stars and is co-created by Mark Little and Dan Beirne.
Joke or Choke will be a 30-minute pilot for a stand-up comedy competition series created by Craig Brown starring Jonny Harris and Mark Forward wherein comedians must write and perform new material for a fickle judge.
Also coming later this year is the second season of Guidestones, the award winning series that follows the story of journalism students who uncover a global conspiracy while investigating the unsolved murder of a scientist.
This launch from CTV follows a move from NBC earlier this month when it announced it is commissioning more than a dozen digital original projects.
With files from Michael Kolberg