Taxi wraps hit Toronto
Play Taxi Media and Sharkfin introduce the new-to-market activations with campaigns for Interac, 411.ca and the Domincan Republic Ministry of Tourism.
Taxi wraps have arrived in Toronto.
Play Taxi Media launched executions for Interac's "Be in the Black" campaign in mid-April. Frank Chimienti, SVP sales, Play Taxi Media, tells MiC that six cabs wrapped in Interac creative are now on the road, with messaging on hood, back bumper, trunk, and both sides of the car. Once inside, cab-riders will see Interac's 30-second spot play on the back-of-seat display. Each cab creates 300,000 viewer impressions per month, according to a Play Taxi release.
Chimienti says that in addition to creating impressions for the campaign itself, the Interac wraps were executed with the goal of influencing payment decisions inside the cab. Interac's media agency of record is Media Experts.
Later this month, Sharkfin will launch its first taxi wrap executions for campaigns with 411.ca (10 cabs) and the Dominican Republic Ministry of Tourism (20 cabs). The full campaigns will remain in market for eight to 10 weeks, with a portion of the activations remaining active through the end of the calendar year. Dirk Bhagat, CEO, Sharkfin, tells MiC that Sharkfin estimates the wraps contribute about 10,000 impressions per day per car, reaching primarily adults 18 to 34, primarily in the downtown area.
In addition to the travel and financial categories, Bhagat says taxi executions in general are popular with alcohol brands because cabs are typically seen driving downtown near clubs and bars, close to the point of sale for alcohol.
That both Play Taxi and Sharkfin would roll out taxi wraps at the same seems to be a natural maturation of the transit OOH space in Toronto, as the companies respond to population growth in the city's downtown core. Roseanne Caron, president, OMAC, tells MiC that while neither company is a member of the Out-of-home Marketing Association of Canada, she suspects the launches stem from Toronto's growth. "I think the growth we're seeing in Toronto and the importance of the market from an advertising perspective [influenced the roll out of taxi wraps]," she says.
Meanwhile, in Montreal, taxi ad companies Taxi Media Plus and Vu Taxi have merged and now combined offer 300 cab top domes, with an additional 100 signs to be added to the network.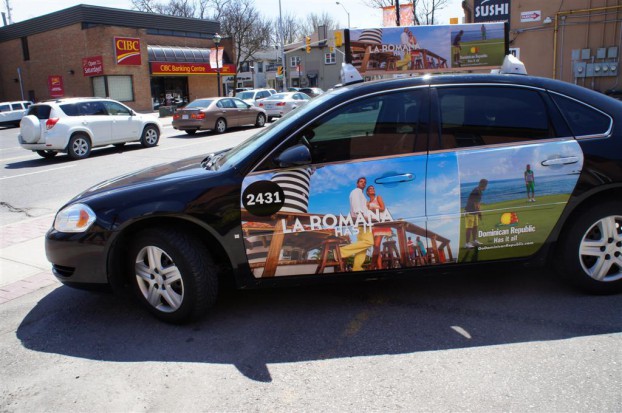 Images courtesy of Play Media Taxi, top, and Sharkfin.