MLSE reworks its search strategy
How Maxus worked with the sports company to increase ticket revenue through targeted search rather than focusing on creative.
Maxus Canada has reworked the search strategy of client Maple Leaf Sports and Entertainment (MLSE), aiming to drive ticket sales through targeting potential customers with keywords rather than driving up impression numbers through creative in ads.
The GroupM agency won the sports client's business last summer and Ira Kates, director of search at its search arm Catalyst Canada, tells MiC that it has been working since then to change the company's strategy around selling tickets online for areas where there are excess inventory.
"We changed the optimization strategy from increasing views to maximizing revenue and finding the things people were searching for that would generate the most ticket sales," he says. "We worked at breaking down the data into silos of what people are looking at so that it can become digestible. Big data can be overwhelming; it can be like gluten and be intolerable. But it works for you once you start breaking it down into digestible bits."
Kates says his team worked to develop 750 different keyword combinations, which were split-tested to get the top-selling ad mixture for groups by age, income and demographic. For instance, Kates says the three ads for the Toronto Raptors shown below over-indexed against other ads for the team and increased click-through rates by 265%. Overall the new strategy generated a return on ad spend that was 400% more valuable than other well-performing campaigns for Maxus Canada.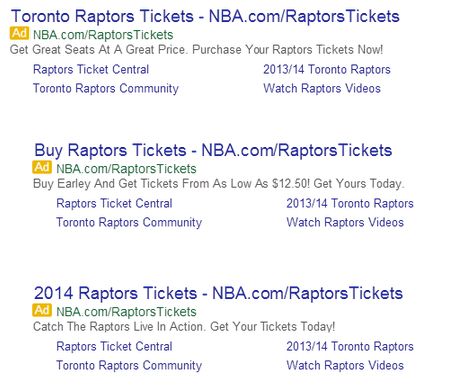 John McCauley, senior director of marketing at MLSE, says the agency allowed the company to take the guess work out of its search sales and help  move tickets when needed, for instance with the Toronto Raptors at the start of the season before they started winning and boosted their profile. This season the team has seen an increase in sellout games of 57% and overall ticket sales go up 8.3%, which was also helped by the increased number of matches the team played this year versus last when it wasn't in the playoffs.
McCauley adds the company will be increasing its focus on search next season as it moves into an anniversary season for the Toronto Raptors.
Image via Shutterstock