Spotted! The Amazing Race Canada's OOH experience
Decked-out transit shelters and digital screens over the Gardiner invite fans to be part of the action.
Ahead of Tuesday's second season premiere, Bell has launched an OOH campaign for The Amazing Race Canada meant to give its massive audience a way to feel like part of the show.
Five transit shelters across Toronto have been outfitted with iconic items from the show, including a clue box and "pit stop" mat. The inside of the shelter has a mirror placed across from a full-length photo of host Jon Montgomery, allowing fans to stand on the mat and take a selfie with the show's host.
The promotion for the show's first season was based more on letting Canadians know that the show existed. Now that it's one of the country's highest-rated programs, Bell Media is giving fans an opportunity to get involved.
"We didn't feel the need to go as big this year, so we wanted to drive engagement," Jon Arklay, senior VP of brand, creative and marketing at Bell Media Agency, tells MiC. "The show has a rabid fan base, and from what we've seen in social media they want to get involved somehow."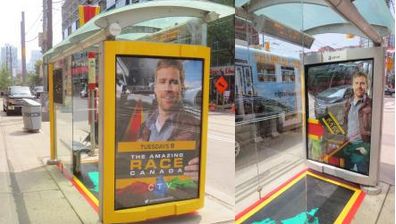 The first season of The Amazing Race Canada averaged 3.3 million viewers per episode, typically doing best in the 25- to 54-year-old age range.
The entire campaign was developed in-house by Bell Media Agency using Astral Out-of-Home's properties in the city.
"Our partners at Astral have really great locations in high density areas," he says. "[Toronto is] also Canada's biggest TV market, but it was really the locations of the shelters that were of particular interest to us."
The campaign isn't just targeting transit riders. Two of Astral Out-of-Home's digital screens overlooking the Gardiner Expressway have also been taken over by the show, displaying rotating promotional phrases and some of the giveaways that sponsors will be holding during the show. Much like the selfie shelter, the phrases are bit more light-hearted, such as "honk if you want an express pass" and "there is a faster way to see the country."
Nearly 100,000 motorists use the Gardiner Expressway on a daily basis, according to recent numbers from the City of Toronto.
The show's promotion has a mass audience goal to it outside of Toronto, with Bell using its TV, radio and digital properties to promote the second season in other Canadian cities.
The campaign runs until July 20. The Amazing Race Canada premieres Tuesday, July 8 on CTV and CTV GO.