Scotiabank rolls out sponsored Amazing Race content program
The bank is sponsoring entertainment and travel pieces in addition to ads across Sun Media's print and digital properties.
Scotiabank is strengthening its tie with The Amazing Race Canada by sponsoring related editorial content across Sun Media properties.
For the next 12 weeks, Sun and 24 Hours newspapers will feature ads promoting Scotiabank's Gold American Express travel rewards card. Yesterday's papers featured a special wrap-around ad, with double-page spreads appearing today and at the end of the campaign.
Following the season premiere, the newspapers will also feature full-page episode recaps every week, written by members of its entertainment staff and anchored by half-page ads from Scotiabank. Sun Media will also be launching a series called "Discover Canada," a print-exclusive travel series focused on locations from coast to coast, written by travel writer Lori Knowles.
There will also be dedicated Amazing Race content on Canoe.ca, which will include the feature episode recaps as well as more frequently-updated digital features.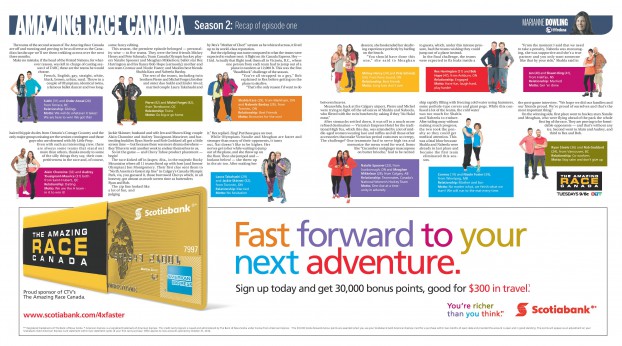 This is the first time Sun Media has done a sponsorship for a show that ties into its existing editorial entertainment content. The media buy was handled by PHD Media, with planning organized in-house by QMI Creative, Custom & Integrated Advertising Solutions.
Laila Hakim, senior director at QMI Creative, Custom & Integrated Advertising Solutions, says that the media co's readers match well with Amazing Race's 25- to 54-year-old target audience. Where Scotiabank's interest in sponsoring The Amazing Race Canada came from wanting to align itself with travel in the minds of Canadians, the partnership with Sun Media came from the abilities of its editorial team to deliver relevant, related content.
The creative was handled by Bensimon Byrne.
Scotiabank has done some sponsored content in the past, usually based around investment and banking, but this is the first time it has pursued a partnership for entertainment and lifestyle content. Jeff Marshall, VP of marketing for Scotiabank, tells MiC that the commuter audience of 24 Hours offered the ideal reach for the Gold American Express card that the bank is promoting through their sponsorship.
The Amazing Race Canada premiered last night on CTV at 9 p.m.