Yahoo bringing mobile strategy to Canada
Featuring swipes instead of scrolls, Yahoo! is launching its visually focused Android app in the country.
Yahoo has made its Android app available in Canada, aiming to bring the best content from the website to mobile in a way that fits with an on-the-go user.
Launched in the US last year, the Canadian app is now available in English and French as part of a rollout happening in 132 different countries. It brings together content from Yahoo's news and weather websites, photos from Flickr and easy access to the company's search offering.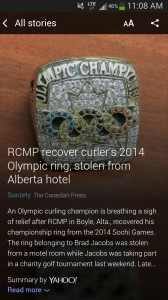 Using a swiping interface as opposed to a scroll, the app displays a full-screen image as a backdrop to content headlines and previews, a visual experience meant to engage users, instead of allowing them to get lost scrolling by, according to a release on the Canadian launch. The app will be supported by native ads from Yahoo Stream Ads, which launched in Canada in May.
The Android app comes in advance of a similar app for iOS in Canada, which is already available in the US but will be released globally within a few weeks.
Yahoo has 450 million monthly users globally across its mobile platforms.
Feature image courtesy of Shutterstock