Space tries for another epic Sharknado
For its sequel, the network is using the B-movie's charm and a more active social media campaign aimed at repeating last summer's ratings success.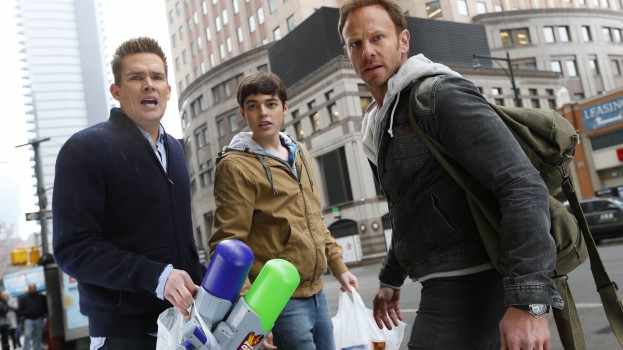 Space is turning to the online communities that led discussion around last summer's Sharknado debut to try and repeat its ratings success for the sequel coming later this month.
Sharknado 2: The Second One moves from Los Angeles to New York, where a massive storm has scooped sharks out of the seas and dropped them into the city's flooded streets and landmarks. It debuts on Space on Wednesday July 30 at 9 p.m.
Capitalizing on the attention the first Sharknado gained online, Space is putting more effort into this year's social media promotion. Space's Facebook, Twitter and Instagram accounts will be posting images counting down to the film's premiere, co-opting internet memes and shark-centred trivia to appeal to the online culture that drove the film's success. Bell's social media team is also looking into ways to use video content on Vine and Instagram.
The broadcast will also be promoted across all of Bell's television and radio properties, as well as with display ads online. Last night, Space began "Shark Attack Wednesdays," building anticipation by showing a similarly kitchey shark attack movie every week leading up to Sharknado 2′s premiere on July 30.
Despite Sharknado's B-movie appeal, Justin Stockman, VP of specialty channels for Bell Media, tells MiC it is not a niche film. The first Sharknado had 309,000 viewers, winning its Friday night timeslot. Factoring in viewers for repeat airings that were propelled by the attention the movie gained online, Stockman says that nearly one million viewers watched Sharknado on Space last year. He adds that Space saw growth in nearly every audience segment last year, especially among women.
However, Space is still a specialty channel, and getting over 300,000 viewers for one broadcast is a major accomplishment. Because of that, Stockman isn't going to get overly optimistic about topping those numbers this year. However, now that people know about the program, it is possible to see some of those late-adopters tuning in, he says.
During the first film's broadcast, there were 22,000 mentions of the show on Twitter within Canada, resulting in 28 million total impressions. Looking at the American broadcast, some have expressed doubt that the online appeal of a film like Sharknado always translates into viewers, especially when there is no way to ensure that the discussions are positive.
Subway, whose infamous spokesperson Jared Fogle will have a cameo in Sharknado 2, has been confirmed as a sponsor for the broadcast, although details for the sponsorship are still being worked out.