PayPal's first major Canadian push
The company is testing a new campaign in Toronto, launching with a coffee giveaway in the city this week.
PayPal Canada has launched its first major multi-platform campaign in Toronto, using the results to plan a potential national push in 2015.
Nicky Mezo, marketing director, PayPal Canada, tells MiC that the campaign was launched now because her team felt it was time to start ramping up attention for the app across mobile and in-store. In addition to driving awareness, the PayPal Canada campaign also showcases the parent company's new logo, which was designed by US-based FuseProject.
A push around the PayPal Canada app was developed with Havas Media, and kicks off this week with a $5 off campaign at 25 participating coffee shops across Toronto, like Jimmy's Coffee on Portland St. and Sense Appeal on Spadina Ave. Users who go into participating shops will get $5 off their order if they pay using the app from now until the end of July.
That work ladders up to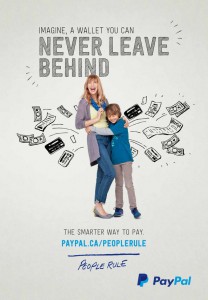 the larger "Powering the People Economy" campaign that the brand is running globally, recently launching it in Canada, and focuses on security, speed and simplicity.
The campaign will roll out with OOH ads across the city, print ads in magazines like Toronto Life and Cineplex and online ads on BlogTO.com. Mobile ads were developed with Juice Mobile and Tapped Mobile.
Mezo says PayPal Canada currently has 5.5 million active users across Canada, adding the campaign isn't targeting any one demographic, rather anyone who might pay using the app on desktop or mobile.
The campaign will be in market until the end of October to ensure it gets a large reach with Torontonians.