Spotted! Poutine hits the road
Smoke's Poutinerie is on its biggest marketing push ever with a travelling eating competition to support the franchise's growth across Canada.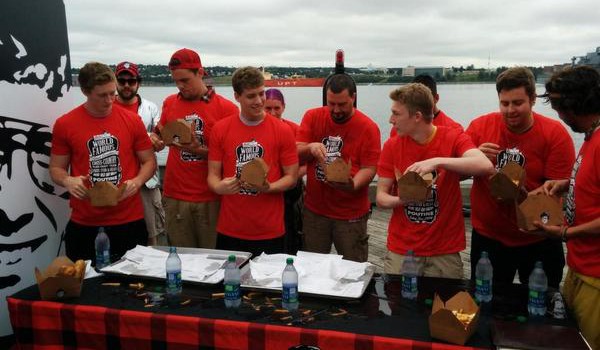 Smoke's Poutinerie is bringing an eating competition that only it can provide to cities across Canada in its biggest marketing push ever to show support to its growing number of locations.
The tour bears the full name of Smoke's Poutinerie World Famous Great Canadian Cross Country Plaid Gravy Train Fries Curd & Gravy Weird Wild and Wacky Poutine Eating Tour 2014 (SPWFGCCCPGTFCGWWWPET2014 for short) started yesterday in Halifax and will visit another city every day before the finale in Vancouver on Aug. 19.
The idea for the series, which was organized and planned completely in-house, comes from the success seen at the World Poutine Eating Championship events Smoke's has been running in Toronto for the last four years.
"What we were getting back from event-goers was that they wanted us all over Canada to see what we could do in other cities," Danica Linnemann, marketing manager at Smoke's Poutinerie, tells MiC.
Having first been established as a food truck in 2008, Smoke's now has over 60 locations across Canada with plans to open its first American location in Los Angeles before the end of the year. With 17 different stops, every city on the tour has at least one Smoke's location, with some of the stops, such as Moose Jaw, being open for only a matter of weeks.
"We're going to focus on city locations where we have franchises to support them and show the cities what we do and what we're capable of," Linnemann says. "In places like Moose Jaw, this is a way to get the word out and help them establish a fanatical customer base."
The main attraction is the team of competitive eaters Smoke's is bringing with it. In each city, "Furious Pete" Czerwinski, Tim "Gravy" Brown and Pat "Deep Dish" Bertoletti will be going head-to-head in a contest that reflects some aspect of the local culture. At the kick-off event yesterday in Halifax, there was a donair-eating competition. There will be a nod to Kelowna's history of winemaking when the competitors have to stomp the poutine in a barrel before drinking it. In Calgary, the Stampede will be represented as the eaters race to eat the most bull testicle poutine.
Smoke's target market is 18- to 25-year-olds, although Linnemann says that age goes as high as 45. Part of the event-heavy marketing the company has previously done – with Smoke's being available at music festivals and outdoor events across Canada – is part of its history as a food truck, but it also helps deliver the restaurant's personality in a way that connects with that younger market.
"What's most important is to show just how fun we are," Linnemann says. "We're not just a poutine company. We're an entertainment company, built on glam rock and love of the 80s, and we enforce that through the music that we play and the events we do."
As the company grows, so has its marketing budget. Given the company's history, it makes sense that its biggest push be put behind creating an event like this one, although Linnemann says the company will inevitably have to include other platforms in its strategy.
"You can't continue to rely on the same media vehicles, but [event-based marketing] has been extremely successful for us so far, so I don't think at any point we're going to neglect it completely. It's a pillar of what we do but there's always potential for more."
Image from Twitter user @nfitzgerald