The state of OOH in 2014
Rosanne Caron of OMAC takes a Canadian look at recent global numbers from PQ Media and Warc.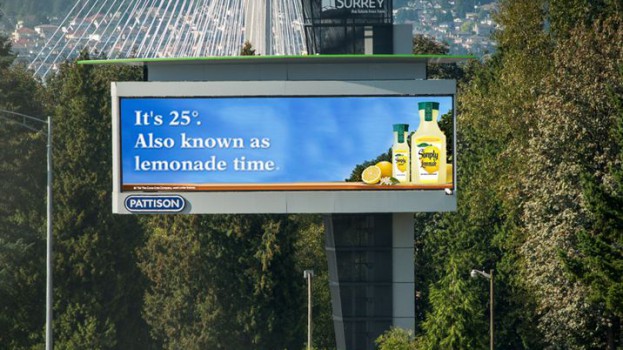 A new report predicts that out-of-home revenue from digital screens is expected to continue its rise globally.
The stats from US research firm PQ Media and Warc say spending on digital OOH is expected to grow by 11.3% worldwide in 2014. This is in line with predictions made by PwC's Global Entertainment and Media Outlook, which said that in Canada, digital OOH spending is expected to grow by an average of 11.6% over the next five years.
"We've seen double digit growth over the past year with respect to digital in Canada," Rosanne Caron, president of the Out-of-Home Marketing Association of Canada, tells MiC about digital OOH growth in this country. "That growth has been across outdoor, transit, as well as the indoor networks. Obviously, there is some growth of static [ads], but the interest in digital is driving the largest part of that growth."
As the technology behind digital OOH improves, so too do the elements that are driving the growth. Caron points to Pattison recently rolling out its SmartAd tech on all of their digital boards (pictured above), allowing clients to change their messaging in real-time.
PQ Media says that on a global scale, exposure to digital OOH ads for the typical consumer grew to an average of 14 minutes per week in 2013 and is estimated to grow by 9.5% this year. Caron says that in Canada, unlike some other countries, statistics for digital OOH are not tracked separately from the traditional, static forms of OOH, but we still see the ease of interaction and intrigue around the innovation driving engagement here. A recent OMAC survey of 90,000 consumers shows that 28% of them recalled seeing a digital ad within the previous week.
"People are much more aware of digital screens simply because there's more signs than in the past. But there's also a high level of interest in engaging with them," Caron says.
Static OOH still has its purpose, though. According to the OMAC survey, 50% of consumers recalled a static ad in a transit shelter, street furniture or outdoor mural. In Canada, where mobile device penetration is among the highest in the world, there is an opportunity for marketers to integrate static creative with things like NPC, QR codes, beacons or WiFi, says Caron.
"You're seeing it happen a lot at street level, especially in transit shelters and bus stops," she says. "A lot of marketers are integrating mobile as part of that. Having the ability to reach people as they're on the go is incredibly attractive and useful."
The PQ report says that a major driver for OOH growth in 2014, especially in the US, has been spending based around national and international events like the World Cup and Olympics, as well as a major marketing push from the government surrounding the Affordable Care Act.