September issues: Fashion
Lilia Lozinski, SVP at the magazine's publisher St. Joseph Media, talks ad trends and page counts for the biggest issue of the year.
September is the biggest time of the year for fashion magazines, so MiC is checking in with Canadian publishers to see how the titles are faring this year. First up is the St. Joseph Media-published Fashion magazine.
Fashion had total paid and verified circulation of 113,700 for the first six months of 2014, down 1.4% from the same period last year. The magazine has a broad target of women aged 18 to 54, with a more specific demo of 18 to 34.
September issue stats:
Page count: 208, down from 218 overall pages last year. Advertising pages in the magazine have remained flat for the past three years, Lilia Lozinski, SVP, St. Joseph Media, tells MiC. In September 2012 and 2013 there were 114 pages, this year there are 115. She says the overall page count drop is due to fewer house ads in the magazine, and making the book more efficient overall.
Ad trends: Lozinski says that retail has been soft overall since the start of the year, estimating that the category likely hasn't bounced back from the especially harsh winter.
"Also down across the board are the big inserts and scent strips that fashion magazines carry," she says.
On the upswing for the issue are luxury brands, with Chanel, Louis Vuitton, Gucci, Prada, Hermes and Tiffany all buying spots in this year's magazine. Lozinski adds that denim ads, which were not in the September issue last year are back this year, with Diesel, Guess and Calvin Klein Jeans in the issue. She says ad prices year-over-year have largely remained flat at the title.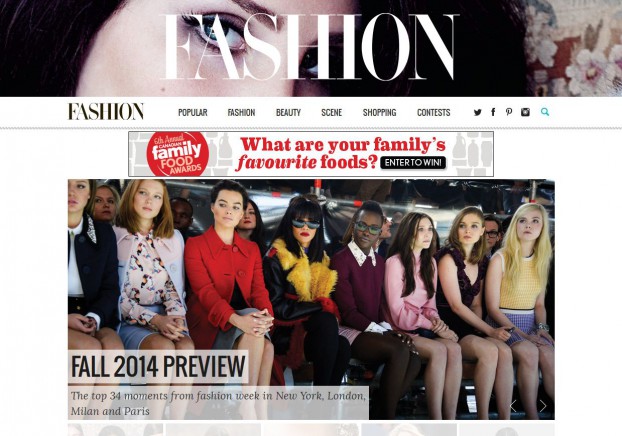 Digital: Fashion magazine will be unveiling its newly redesigned website next week with larger images at the top of the page that Lozinski says are more brand friendly for native advertising.
On the digital edition side Lozinski says that the brand is still in test and learn mode, with the magazine launching a new interactive version in May of this year. She says the 4,122 digital replicas consumers have downloaded from the brand so far in 2014 is still an admittedly small number.
Unique visitors to Fashionmagazine.com: 209,000 (three month average)
Twitter followers: 538,000
Facebook fans: 423,562
Pinterest subscribers: 22,246
Instagram followers: 9,350