September issues: Flare
The magazine's publisher Melissa Ahlstrand on the Rogers Media title's growing digital focus and two special advertising partnerships it has for this issue.
September is traditionally the biggest time of the year for fashion magazines, so MiC is checking in with Canadian publishers to see how the titles are faring this year. Next up is Rogers Media-published Flare magazine.
Overall Flare's total paid and verified circulation is down 4.4% for the first six months of 2014 against the same period last year. The drop is despite a jump of 101.7% in single-copy sales for the period, bolstered by Next Issue Canada downloads each counting towards the total.
September issue stats:

Page count: This year's September issue has 210 pages overall and 106 pages of ads in the issue. That is down from 238 overall pages last year and 108 pages of ads.
Ads: This year's September issue has two special executions, with a four-page gatefold cover from Winners,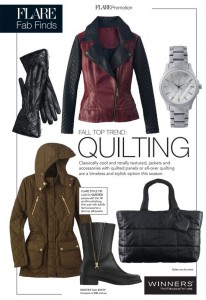 extending out to reveal "Fab Finds"  that were selected by Flare and the brand. The gatefold also allowed the magazine to do a double-cover of actress Chloe Moretz, says Ahlstrand.
In addition the magazine has a pull-out gatefold in the Beauty section from Organics featuring ads wrapping a section on hair tips.
Overall Melissa Ahlstrand, publisher at Flare says the magazine is also feeling the pinch of a tougher market for print advertising.
"No surprise that print advertising overall is challenged, and our business is very contingent on our beauty partners and how they feel their business is tracking," she says.
Audience: Ahlstrand says the positive Next Issue Canada numbers are the start of a bigger digital push for the magazine. While not specifying the age range the title sets out to reach, Ahlstrand says that Flare will be skewing younger with its increasingly digital push.
Unique visitors to Flare.com:  125,000 in July

Twitter followers: 80,000

Facebook fans: 46,000

Pinterest subscribers: 13,000

Instagram followers: 9,199

Also check-out September issue numbers from Fashion magazine.