September issues: Elle Canada
Kelly Whitelock, general sales manager of consumer publications at TC Media, says sales plans are being pushed back and there is a fight for prime scent-strip placement.
September is traditionally the biggest time of the year for fashion magazines, so MiC is checking in with Canadian publishers to see how the titles are faring this year. Next up is TC Media-published Elle Canada.
Total paid and verified circulation at Elle Canada is down for the first six months of the year by 4.2% against the same period last year, according to the latest numbers from AAM. The magazine came in at #18 on the digital replica edition chart, with an overall count of 4,689 digital copies for the period.
September issue stats: Kelly Whitelock, general sales manager of consumer publications at TC Media, says this year's September issue has a total page count of 218, with 116 pages of ads. That is down from last year's 260-page book, with 139 pages of advertising.
Ads: Whitelock says media agencies are waiting longer to book ads, meaning some of them were arranged later that usual in the season. That means this year the magazine's issues from October to December will likely have more ads than the traditionally hot September book.
She says buys are coming late because of a soft retail market from this past winter, which has hurt budgets for many of its major clients. However, there are new ads from incoming US retailers like Ann Taylor and a first-ever ad directing readers to NeimanMarcus.com, adds Whitelock.
Clients are also becoming more competitive around scent-strip placement, says Whitelock, with brands only going for the first, second or third spots in the magazine and then declining to buy an ad when those spots are gone.
Elle Canada recently announced a deal with Hudson's Bay for a series of shoppable videos that are being showcased in the September issue. Whitelock says deals are in the works for similarly different activations with brands for its October to December issues.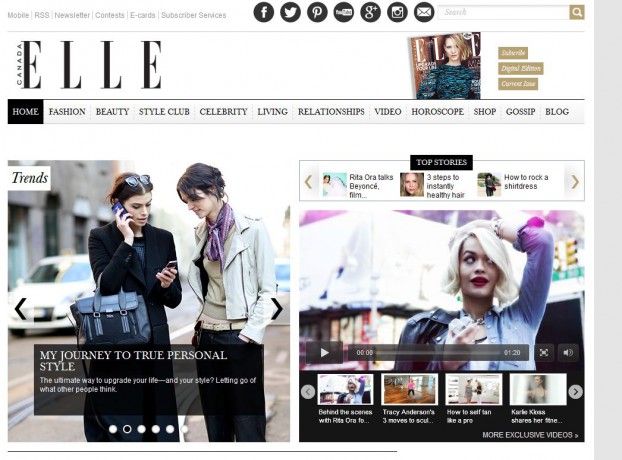 Audience: Whitelock says that the core readership of Elle Canada is people 25 to 54, but adds it's not the age of potential readers as much as their interest in fashion that draws people to the title.
Twitter followers: 46,900
Facebook fans: 55,136
Pinterest subscribers: 5,265
Instagram followers: 15,000
Also check-out September issue numbers from Fashion magazine and Flare.