Reebok takes over hockey on The Score
The sports news platform will be writing custom content for native ads promoting the brand around its NHL coverage.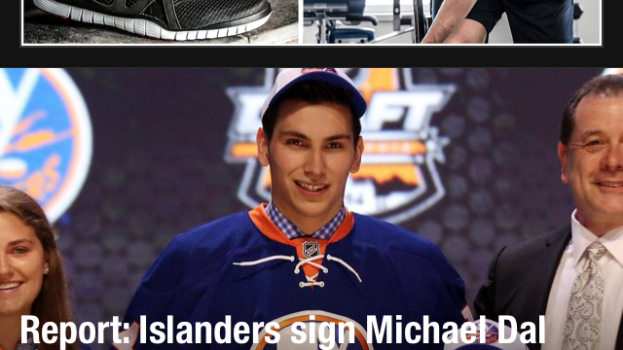 The Score is handing over its native ads to Reebok and providing the sports company with custom editorial content to promote its new Sidney Crosby SC87 line of hockey equipment and training gear.
For the campaign, The Score's hockey editor Justin Bourne will be writing stories focused on Crosby and integrating Reebok's products into his regular new equipment reviews.
"Users will know that it is [Reebok's] content, but at the same time, Bourne doesn't put his name behind things he wouldn't endorse naturally," Geoff Glen, senior account executive at The Score, tells MiC. "We get a lot of proposals for 'beyond the banner' ideas, so when people want to add virality or a holistic approach to increase reach, we throw [custom content] in. It's a big benefit for us, having a content team in house that is able to produce this stuff because not a lot of people can provide it on mobile."
Reebok will also be worked into a user's personalized feed and have a full takeover of the NHL section of the website and app, with standard and native ads units directing users to Sport Chek, Reebok's exclusive hockey retailer in Canada, to purchase items in the SC87 line or to enter a contest to win a trip to Toronto to see the Maple Leafs play Crosby and the Penguins. The big difference from other category-exclusive programs the site has done for hockey in the past is the native ad unit. Added by The Score earlier this year, Glen says it has resulted in a 20% increase in click-through rates versus traditional banners.
Reebok's takeover of the NHL section on The Score begins Saturday with the custom content stories rolling out within the next two weeks.
While The Score's desktop platform receives about 15,000 unique visitors daily, Glen says that its overall web traffic is up 50% from last year as 95% of its audience moves to the smartphone and tablet apps. Ads on the app earn between 4.5 and six million impressions daily, with 2.5 million page views on the NHL section now that the season has begun.
This type of program, with a mix of custom content, native ad unit and brand takeovers is going to be a major part of The Score's NBA and NFL sections in the weeks to come. Glen also says that Reebok is taking up the majority of its NHL inventory, and is in line with the platform's strategy over the last couple years to give exclusivity to one brand that it knows has relevance to its users.
"When it's a third party or network inventory, like we used to do, we usually find that it acts a bit more intrusively to our users," Glen says. "Some ads would sneak in that weren't relevant and we would get feedback from users saying it's intrusive and asking how to get rid of them. When you have one brand like Reebok, we never hear anything like that."