Yellow Pages' 'shop local' campaign goes cross-country
Bell Media Mix takes lead on creative and media for the campaign, marking its largest execution to date.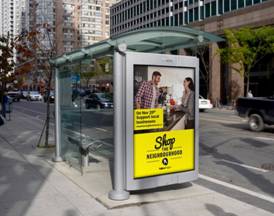 Yellow Pages is urging Canadians to shop where they live this Saturday, expanding its "Shop the Neighbourhood" campaign beyond the Toronto area for the second year of the program.

Timed to run between Black Friday and Cyber Monday, the Yellow Pages program invites local stores to offer up special deals on Saturday Nov. 29 that are visible to consumers through the Shop the Neighbourhood website or custom app. The program is running in Montreal, Toronto, Ottawa, Calgary and Vancouver. Deals in the program are available to anyone who goes to participating stores that day, with no coupons or codes required.
André Leblanc, director of marketing communications, Yellow Pages, says the campaign's aim is to re-establish the brand in neighbourhoods across Canada.
"Supporting small businesses is part of our DNA," he says. "From that perspective, it's a direct link between our brand promise and an event."
Post-event surveys from last year's Toronto area shopping event showed that one in two people who saw promotions for the day went out and shopped, with 84% saying the local initiative had an impact on their holiday spending behaviour.
A campaign promoting the day is running with media and creative by Bell Media Mix. Debbie Drutz, VP, Bell Media Mix, says the campaign is the largest to date for the internal marketing team because of the amount of content it has integrated into radio and TV news programs promoting the day to listeners and viewers.
In addition to the news integrations, the program has spots running during CTV's The Social and eTalk, with OOH, TV, radio and digital ads running across Bell Media's fleet of properties until Saturday.