Spotted! CraveTV launches with marathon viewing session
The Bell Media stunt sees six people going for a Guinness World Record of 91 consecutive hours of watching the streamer's programming.
Bell Media is being literal with the promotion of its new CraveTV streaming service, showing people marathon-viewing hours and hours of TV live from its Queen St. headquarters in Toronto.
Six participants (or as Bell Media is calling them, "cravers") are going for the Guinness World Record for marathon TV viewing as part of a cross-platform media push to promote the new service.
To get the record, at least one of the participants needs to watch 91 hours of consecutive programming, with five minutes off per hour and no more than five seconds of their eyes off the screen during the time they are viewing.
Content that the participants are watching has been pre-selected, with independent agents monitoring the process, and Guinness officials re-watching the event after it wraps in order to ensure it meets all guidelines.
Jon Arklay, SVP of brand, creative and marketing for the Bell Media Agency, says the company wanted to launch CraveTV in a unique way, and when his team found out there was a Guinness World Record for marathon TV viewing he said they thought beating it was an opportunity they couldn't pass up.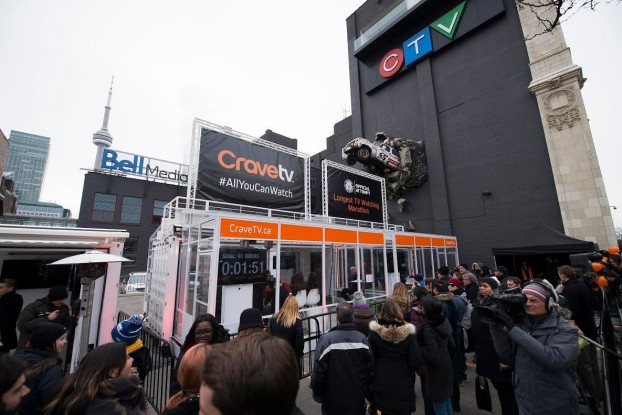 In addition to the Queen St. stunt, which can be viewed live through the streamer's website, the Bell Media Agency has a campaign promoting the launch of CraveTV running across the company's TV, radio and OOH properties, with messaging focused on the content and price of the service. An additional digital and paid Twitter campaign will launch with the product on Thursday.
CraveTV launches Dec. 11 to Eastlink, Optik TV, Bell Aliant FibreOP TV subscribers, with Northwestel and other CCSA members to follow. The service costs $4 a month.