RBC shows off perks program on Steven and Chris
The bank's Avion Holiday Boutique is getting its own segments during the CBC talk show's hoilday episodes.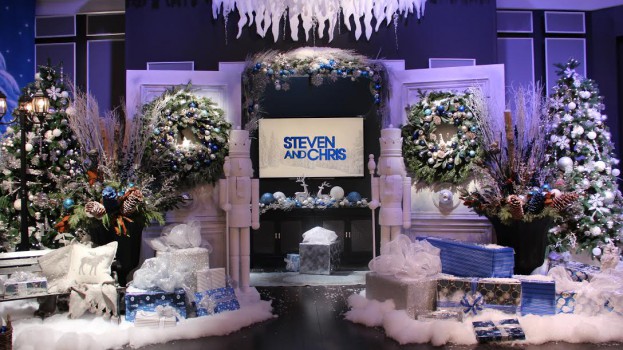 The studio for CBC talk show Steven and Chris will have a decidedly blue and white colour-scheme next week during its "holiday programming" episodes.
Royal Bank of Canada, working with media AOR M2, has partnered with the pubcaster to integrate its Avion Holiday Boutique (three pop-up boutiques at malls offering perks to Avion travel rewards card members) into the show, which reaches 1.4 million viewers 2+. The studio will be branded in the boutique's colours between Dec. 15 and 19, and several segments of the the week's shows will feature it at mall locations. For instance, "Chris' Angels," a trio of product testers from the show, will try out the boutique experience.
As well, an Avion-branded viewer contest to win a $5,000 shopping spree with the show's fashion contributor Genny Iannucci will be promoted throughout the week-long programming, both in-show, in promo spots and elsewhere on the CBC's schedule and in its holiday programming. The winner of the contest will be announced during an episode in the New Year.
The boutique program launched in 2013 and offers Avion cardholders perks such as valet parking, coat check, a cafe and a gift-wrapping service at Yorkdale Shopping Centre, Square One Shopping Centre and Coquitlam Centre. This year, RBC's marketing team wanted to give the boutiques more exposure nationally, says Jennifer Howard, head marketing digital, payments and cards.
The integration with Steven and Chris, which airs at 2 p.m. on weekdays and targets women 25 to 54, should help accomplish those goals, Howards says.
"It really brought the spirit of the boutique to life in a creative way," she says. "The platform allows us to take the platform to the national audience level."
RBC is also sponsoring a holiday section on the Steven and Chris website, including recipes and gift ideas.
The Avion Boutique campaign started in November with direct mail sent to cardholders within 50 km of each boutique location. Partner malls are promoting the boutique on their social channels and RBC produced a teaser video for YouTube, Twitter and Facebook. The boutique was also featured on City's Breakfast Television on Black Friday, Nov. 28, for a segment on gift wrapping.