Spotted! Interac's streetside spending reminders
How last Thursday's snow storm helped the debit card company's three-day OOH campaign in Toronto.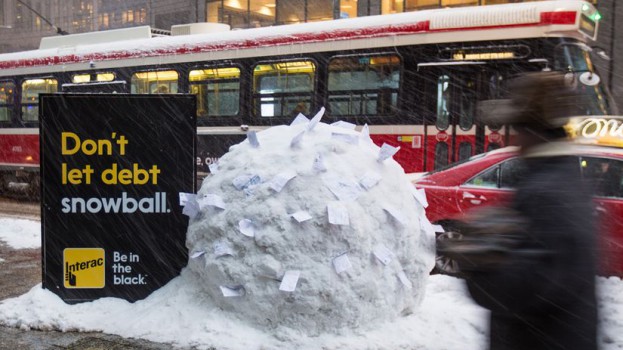 If you have ever had an OOH stunt ruined by weather, you won't like this story.
Last week Interac had Mother Nature on its side when a snow storm in Toronto dovetailed perfectly with its planned OOH strategy.
The brand and its agency Zulu Alpha Kilo kicked off a series of OOH activations with a snowball made of real snow and credit card bills at King St. West and University Ave. with the headline "Don't let debt snowball."
Ron Smrczek, executive creative director, Zulu Alpha Kilo, says the aim of the one-day OOH activation strategy was to remind shoppers to use their Interac cards instead of credit cards for holiday shopping. The stunts were part of the company's ongoing "Be in the black" campaign.
The snowball was followed-up on Friday by a half-melted snowman at Yonge and Eglington with the tagline "Don't get burned by credit fees" and a sign placed at Yonge and Dundas Square on Saturday with real mistletoe and the headline "Kiss credit fees goodbye."
Ebrahim El Kalza, strategic planning director, Zulu Alpha Kilo, says the campaign aims to reach people who start each month with good financial intentions, but end up getting off-track and using credit cards.