Astral ups mural presence in Toronto
The company now has eight times more large-format murals in the city following an acquisition from Strategic Outdoor.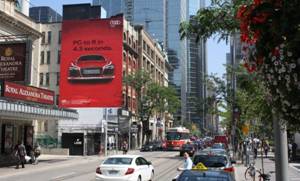 Astral Out-of-Home has made a big investment in large-format murals in Toronto by acquiring 28 locations from Strategic Outdoor.
The purchase moves the number of large format mural locations the company owns in the city from four to 32.
Jordana Fatsis, VP of sales, Astral Out-of-Home, says the acquisition rounds out the company's recently launched network of 40 digital OOH faces in Toronto, and increases its presence in the city to the same level as Montreal.
The acquired large-format mural locations are placed in various Toronto neighbourhoods, including the entertainment district, financial district, the Danforth, Queen St. West, uptown, the Annex and Yorkville.