Former Onestop Media execs relaunch data co at CES
Dive Networks, formerly Performance Content Group, is introducing a new platform that presents data in an easy-to-understand format.
Thirteen months after launching audience intelligence and content analytics firm Performance Content Group (PGC), Deborah Hall, Michael Girgis and Jake Neiman are rebranding the company and rolling out a new product to help marketers digest big data.
The company, now known as Dive Networks, introduced its new data "ecosystem, which it describes as "Bloomberg for Brands" at CES on Tuesday. The platform curates real-time data relevant to a brand and presents it as content on multiple digital displays so that an entire office, not just analysts, can follow along.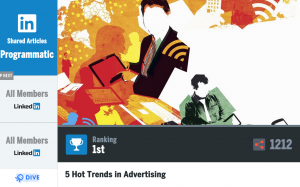 Girgis, president of Dive Networks and fellow PCG co-founder and CFO Jake Neiman used their past experience launching Toronto-based OOH company Onestop Media (now owned by Pattison Outdoor) to create the platform for Dive. 
To demonstrate how it works, the team partnered with LinkedIn to broadcast "trending topics and articles" on a large display screen network inside the OMD Oasis Lounge at CES.
Co-founder and CEO Hall says the platform helps de-clutter a marketer's job by removing the need to check multiple dashboards to track how their brand is performing online and on social sites. It provides an easier, even entertaining way, for marketers to digest data, Hall adds, and presents data analysis in a way that everyone in a company can understand, with channels focused on various aspects of a brand, such as key words that drove to a brand site, or most-engaging articles by audiences, curated from first-party data and data from partners like Instagram, YouTube, Google, Facebook, LinkedIn and Twitter.

"What we are doing is getting rid of that layer for marketers and seeing there is a new way of looking at this and it can be available to you all the time," she says. "Instead of making marketers understand the data landscape, we are making the data landscape suit marketers."
Secondary image: a screenshot of Dive's platform