Wheels.ca examines the car-lifestyle link
The Torstar-owned site has been redesigned, with new lifestyle categories, video and a wider focus for its content.
Torstar-owned Wheels.ca has reworked its offering, increasing the editorial focus beyond Ontario, and adding video and lifestyle tags in order to connect with car enthusiasts earlier in the purchase funnel.
Jonmichael Moy, general manager, Wheels.ca, says the new site aims to be a place both current car owners and car enthusiasts want to visit. The site is branching out beyond its editorial connection with the Toronto Star to build original content of its own.
"We are looking to move beyond auto buyers, to people who are interested in cars generally," Moy says. "The purchase cycle for buying a car has gone from a year to a few months, so brands need to engage with consumers a lot earlier."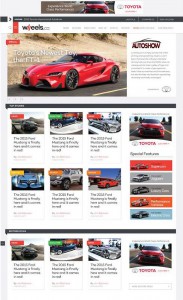 A more diverse and widespread staff will expand coverage beyond Ontario, with more female voices to better reach its primary demo of men and women aged 18 to 55. Currently, the site pulls about 400,000 unique visitors a month, it is hoping to double that number in the next year.
Content will be tagged as one of seven lifestyle categories – outdoor, luxury, family, performance, work force, eco-conscious and urban commuter. Brands have the option of sponsoring a category, with banner ads, content and video appearing around that group.
Wheels.ca is also adding weekly automotive videos through a partnership with Driving Television, which airs on Global. Additional videos will be added, based on sponsorship demand.
The site's redesign has made it responsive, allowing for an improved experience for the 20% of the audience that currently accesses the site through smartphone and tablet.
The Toronto Star's involvement in the automotive category extends to it being presenting title sponsor of the Canadian International Auto Show and its involvement with the Honda Indy Toronto as the official newspaper partner of the race through 2017.
Postmedia has also recently renewed its interest in the automotive category, organizing a specific sales group for the category late last year.