What's new in OOH: Pattison and Outfront go big
Outfront has new boards at Yonge-Englinton in Toronto and Pattison has installed a new digital display along the Windsor border.
Don't miss an account move, signage change, or contact update. Get the latest in the world of faces with MiC's roundup.
Outfront, Warner Bros. add boards in Toronto: Two digital bulletin billboards from Outfront have been installed to promote the new Warner Bros. movie Mad Max: Fury Road, ahead of the film's May 15 launch.
The 14-foot by 48-foot LED boards, located at Yonge-Eglinton centre in Toronto, are passed by over 125,000 pedestrians and drivers per day.
The installation of the billboards comes as a $65 million renovation of the RioCan Yonge-Eglinton nears its completion. The project will see the installation of an additional 47 digital ad units in the expanded complex.
Pattison Outdoor patrols the Windsor-Detroit border: OOH company Pattison has installed a 10-foot by 35-foot high-res digital display at the border tunnel between Windsor, ON and Detroit, MI.
The tunnel is the second busiest Canada-U.S. border crossing, passed through by approximately 3.6 million people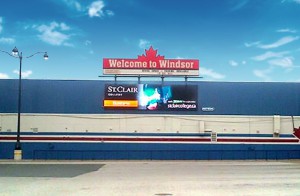 and 2.1 million vehicles a year (based on figures from 2013). It is a popular route for shoppers, as well as those attending sports events and entertainment venues. Lengthy waits of around 45 minutes during peak hours make this a high-visibility board.
The digital screen plays a 60-second loop, featuring multiple ads from a variety of brands. The display is Pattison's first exterior digital media product in Windsor.
OMAC members make $24 million in donations: Members of the Out-of-Home Marketing Association of Canada (OMAC) donated $24 million's worth of free ad space to charities, community events and non-profit organizations in 2014, according to a report released by the OOH company.
These efforts help increase awareness of the groups' services, as well as fundraise for donations and recruit volunteers.  The arts community also receives support through various programs that promote artists and their work.