Mobile driving online media consumption: report
Global internet consumption will grow 10% annually, according to a consumer media consumption report by Zenith Optimedia.
Canadians are spending more time consuming media than ever before, according to a report released by Zenith Optimedia (global), which shows a 100% increase in online consumption of media to three hours a day. Almost all of the growth is driven by mobile consumption (see chart below).
Total Canadian media consumption across traditional and online sources is 8.5 hours a day, a rise from 7.3 hours last year. The numbers show a decline of 9% in Canadian consumption of traditional media.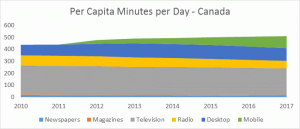 The report, "Media Consumption Forecasts," gathered data on media consumption across 65 countries to assess changing trends and patterns in consumers' behaviour and to predict how these changes will reverberate through to 2017. The report focuses on consumption of all forms of media, including newspapers, magazines, radio, television, online, cinema and OOH. Based on the growing consumption of internet media, the report estimates that the internet share of global media consumption will rise from 12.9%  in 2010 to 28.6% in 2017.
Newspapers are the biggest losers as a result of the spike in internet media consumption. Globally, the average time spent reading newspapers dropped 25.6% between 2010 and 2014. However, the figures do not include time spent on newspapers' online sites, which is counted as time spent online. The internet grew at the fastest rate over the years covered by the study. Global internet usage shot up to 109.5 minutes per day in 2014, up from 59.6 minutes per day in 2010. Internet consumption, driven by mobile access, technology and ease of use, will grow at 9.8% a year to 144.8 minutes per day in 2017, the report forecasts.
All traditional media suffered losses in readership and viewership to the internet except for OOH, the global consumption of which increased by 1.2% between those same years with 107.2 minutes being spent on exposure to outdoor advertising each day. (OOH was not measured in Canada and the U.S.)
In Canada, media consumption is 30% higher than the global average but significantly less than American consumption of media. Canadians spend more time online than their American counterparts, who still get a significant amount of their news from traditional media sources.
Zenith Optimedia has previously published reports on changes in media ad spend. This is the company's first forecast of consumer media consumption.