New platform mirrors YouTube, for sports
SendtoNews Video has rolled out a new sports video platform that allows brands to reach millennial sports fans through exclusive sports content.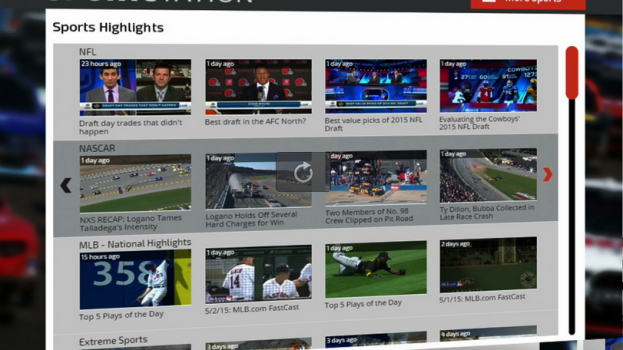 Brands looking to reach sports-hungry fans in that video-chomping millennial demo have a new space through which to strut their wares. At least that's what SendtoNews Video is promising with its new digital video centre. The platform, called SportStation is being positioned as a decentralized YouTube of sports with premium sports video inventory.
Marking the millennial demo as its target group, offering exclusive sports videos up to three minutes, and focusing on providing transparency and data-driven optimization for brands, the company's new platform links brands to its network of publishing partners. The platform can be embedded in a news website, and gives viewers access to a selection of curated sports-moment videos.
The product was developed out of the insight that viewers, once locked into a video, have a tendency to sit through up to 10 to 12 more when served consecutively.
"We came to the realization that this particular product made a ton of sense," says Greg Bobolo, CEO of SendtoNews. "In a way it is a destination site that lives one layer deep through all our publishing sites, a kind of centralized YouTube for professional sports."
The company has exclusive global distribution rights for NASCAR, and is also the exclusive Canadian distribution partner for the NFL. It has North American distribution rights for SNTV, a sports video news agency and the PGA Tour. Additionally, SendtoNews also has content rights for 75 sports leagues across four continents, which includes premier league soccer. The company's biggest partnership is with Major League Baseball for exclusive global distribution rights.

The company rolled out an early version of the platform with some of its publishing partners at the start of this year. Its video platform can be accessed on the Vancouver Sun's sports pages under the trending videos column on the right side of the page.
Bobolo calls the space a "Holy Grail" for advertisers looking to reach the millennial sports enthusiast because of the range of local, regional and national sports content that is exclusive and because of the site's click-to-play inventory. Ad inventory is highly customizable to content and can run 15, 30 or 60 seconds, although Bobolo recommends 15 second spots because viewability drops for videos with longer ads. The ads can play as pre-roll, mid-roll or post-roll.
"A best-of-breed revenue share model also ensures that Sportstation receives priority page positioning and advertisers have the flexibility to run ad campaigns on team content, league content, specific league events or across multiple leagues and events," says Bobolo. 
The platform pays sports leagues a rights fee to acquire exclusive rights to distribute and sell ads against content. Its revenue sharing model splits revenue with publishers once expenses have been covered.
Most traffic to the company's network comes from mobile (60%) according to SendtoNews. Additionally, the platform offers various performance metrics that allow buyers to keep track of how their inventory is performing, and ensure that they are getting the right return on investment.