Mobile global hotspot for ad dollars: report
Mobile will see the most growth in ad spend in 2016 while print declines will continue, according to a global Warc report.
The internet's future is secure, according to Warc's latest global ad spend report. The marketing intelligence service forecasts that the medium will emerge as the largest one for advertisers in 2016.
Meanwhile, global ad spend  in 2015 for 12 major markets, including Canada, is set to increase by 2.3% according to the report. This reflects a significant drop from Warc's December growth estimate of 4.8% for the year. Estimates of U.S. ad spend fell three percentage points from the previous estimate, while Canada's growth estimate fell by 2.9 percentage points.
The decline is attributed to a worse-than-expected year for Canadian newspapers and magazines with ad revenues falling 13.1%, or $508 million lower than they were in 2013, according to James McDonald, research analyst at Warc. "We now expect print ad spend to decline at a harsher rate than previously forecast, based on this and available 2015 data."
Moreover, the growth in internet ad spend is attributable almost entirely to mobile since desktop ad spend actually fell by 3% last year. The IAB's estimate of internet ad spend was reduced by $100 million impacting Warc's expectation of the 2014 internet ad spend. "This unbalanced growth has lead us to revise down our internet expectations a touch, which has had a knock-on effect to the total."
The slowdown in GDP growth and consumer spending in Canada also impacted the reports' forecast.
U.S. TV ad spend reached a record $65.7 billion in 2014 but, due to a lack of major sporting and political events in 2015, Warc anticipates a drop of 3.3% in ad revenue for the medium in 2015.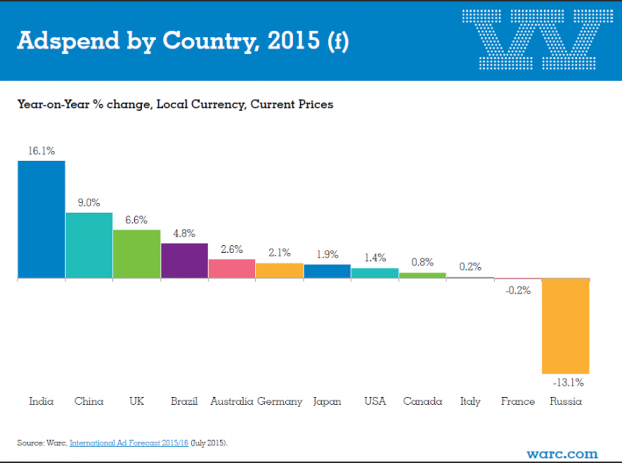 The highest rate of growth in global ad spend is expected to go to the internet, while TV ad spend is expected to fall by 1.9% in 2015. By contrast, internet ad spend is expected to rise 16% for this year and 12.9% for 2016. The medium is already the biggest ad platform in six of the 12 markets analyzed in the report.
Newspapers and magazines continued to suffer ad revenue losses in 2015 of 9.2% and 10.4% respectively. Radio also saw a fall of 1.2% in ad spend. Continued losses are projected for 2016 with a further 7.4% and 5.8% decline in ad spend for magazines and newspapers. Conversely, cinema and outdoor will see increases in advertising expenditure of 3.2% and 0.3%.
The global leaders for ad spend growth in 2015 are India (16%) and China (9%). In 2016 there will be overall growth in ad spend across all 12 markets, except for Russia. Keeping high inflation rates in perspective, India will experience a 12.4% growth in 2016 and Brazil 7.7%. Canada will experience a growth of 2.3%.