Print ad slide contributes to Torstar revenue drop
Execs announced a majority investment in a digital company as continuing declines in print advertising hurt the media co's Q2 revenue.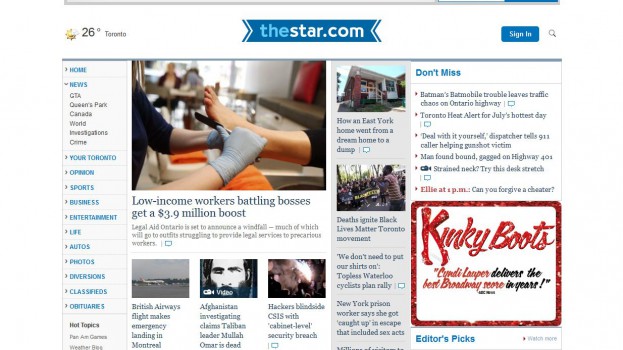 Torstar is positioning itself for a more digitally focused future, investing $200 million in Toronto-based digital forum and website company, VerticalScope.
The company is taking over a 56% stake in the company, which owns and operates more than 600 forums and sites across North America, including AutoGuide.com, Motorcycle.com, ATV.com and PetGuide.com.
That digital investment announcement was paired with the media co's second quarter investment numbers, where print ad drops contributed to a dip in revenue of $20.3 million or 8.6% for the quarter versus the same period in 2014. Revenue at the company moved from $237.2 million in 2014 to $216.9 million this year. Print ad declines eased in the second quarter for the media co though, reflecting a moderation in the rate of decline in national advertising at the Toronto Star.
Also impacting revenue at the company negatively for the quarter was a drop in multi-platform subscriber revenues of 3.2% and the closure of print operations in three of Metro's smaller regions in the third quarter of 2014.
Though the print ad environment is expected to remain challenging, David Holland, President and CEO of Torstar Corporation, said in the financial report that the media co sees some positive early indicators for the third quarter. Those include a moderated rate of print advertising decline at the Toronto Star and Metroland Media Group.
Print subscriber numbers are expected to decline further through the end of 2015, with digital revenues going up, both due to the mid-September launch of the Toronto Star's tablet app.
Operating costs for the Toronto Star's tablet product are expected to be between $6 to $7 million, with costs peaking in the fourth quarter of the year.
Torstar will continue to emphasize cost reductions, anticipating the realization of $8.1 million in savings through the end of the year. Excluding costs associated with the launch of the tablet app, Torstar expects spending levels for 2015 to be somewhat lower than 2014 levels.