Crave-ing a new look
Evolve Media's CraveOnline is now targeting a more sophisticated male consumer of content and products through its redesign.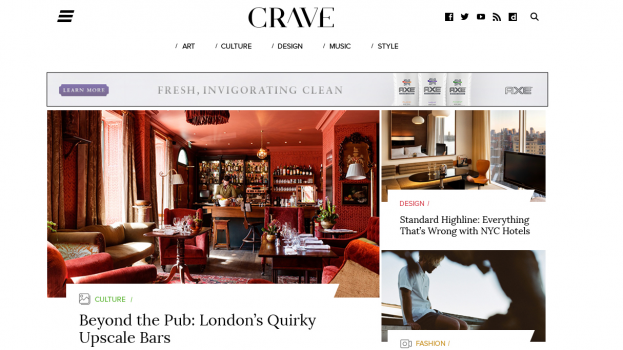 The 18 year old who spent countless hours online gaming or reading about it, has grown up.
According to research conducted by the L.A.-based Evolve Media, the once-young gaming enthusiast has matured into a young man with a job, a good salary and a more affluent lifestyle. To match this person's appetite for culture, art and design, the online lifestyle publisher has re-branded CraveOnline, a lifestyle website targeting male millennials, with new content sections and a cleaner design.
The impetus for the rebranding was a result of a dive into internally-generated analytics and viewer feedback, says Walder Amaya, EVP, international sales and operations at Evolve Media. "The 'pivoting' that Crave has done in order to cater to the male audience, not just about entertainment but also about their refined habits."
The redesign features a clean, image-driven white background with bold typography and is part of the company's strategy to match the content consumption changes of its original demo. As part of its new face, CraveOnline now features culture, art, design and style categories as well. 
The company will now focus solely on the 25- to 34-year-old male user, says Chris Lombardi, director of sales for CraveOnline in Canada, which is Evolve Media's second largest market after the U.S., both in terms of unique visitors and revenue.
The research revealed that "not only is our audience consuming entertainment, gaming and sports content but they're also hungry for more lifestyle and culture content," according to Lombardi.
Because the new site is mobile-optimized, marketers can now run a single campaign across desktop, mobile and tablets. "We are going to be offering a one-stop shop," says Lombardi. The company ran its first interstitial unit for the Jake Gyllenhaal-starrer, Southpaw, as part of its effort to release ad units that have high impact and high-quality creative in tune with the interests of its readers.
CraveOnline has a diverse portfolio of specialty sites targeting enthusiasts of mixed martial arts (Sherdog.com), entertainment (ComingSoon.net) and sports (HockeysFuture.com). But its new design and its addition of new content channels reflect the company's strategy to hold on to its niche audience while expanding its reach to a more mature millennial one.
Content changes at CraveOnline have been driven by a change at the publication's helm. The former editor of U.S. fashion monthly Flaunt Magazine is steering the redesigned publication's editorial voice. The company is also working on developing more Canada-specific content and coverage, and hopes to publish five to 10 articles specific to Canadian readers every week.
The redesign went live yesterday.