Targeting serial commenters
Livefyre launches an ads-in-comments functionality on its platform, which will see publishers walking away with 100% of revenue.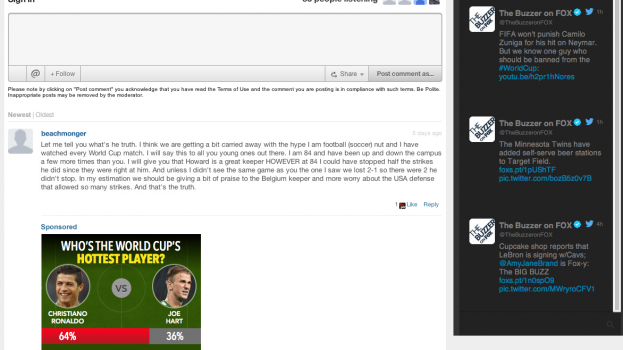 Publishers looking to monetize their online assets now have a way of reaching their most engaged audience: serial commenters. That's the pitch from Livefyre, the U.S.-based real-time content marketing and engagement platform that has added the capacity to advertise within the comments section of publishers' postings.
To build more excitement around the offering, the company is offering publishers 100% of the revenue from ads. The company's revenue model is based on publishers who subscribe to its platform. The added capability is a kind of bonus for clients who pay for Livefyre's product.
It is also the first offering of its kind that will allow publishers to link their existing ad platforms to the comments section while retaining editorial control over which ads will run.
The capability was added to the company's platform yesterday and can be accessed by all its publisher clients. LiveFyre's Canadian clientele includes the Quebecor group, Torstar and the TVA Group.
The move is a way for Livefyre to give back to its clients, says Lexi Monaghan, PR manager at Livefyre. The company developed the ads-in-comments functionality in response to publisher-led demand for new ways to monetize content.
"Love them or hate them, commenters are consistently among the most engaged users on a site," says Jordan Kretchmer, founder and CEO of Livefyre. Publishers can monetize their onsite engagement by connecting their most loyal audience members with premium ad inventory, he notes.
The move is also seen as a way to give marketers more engagement-based metrics to analyze how their campaigns are faring in the digital ecosystem.
The company believes that its platform's curatorial and moderation capability enables it to prevent ads from popping up in places where they shouldn't – in comments led by trolls or where abusive language is present. Gibberish and profanity get "bozo'd" by the company's automated detector. And where an audience is engaged in a sensitive conversation around, say a school shooting, publishers can ensure that a pro-gun law ad doesn't pop up in between comments, for instance.
"All of the ads are targeted specifically based on editorial content, so the system makes sure that the ad is correctly targeting and that it belongs there," says Monaghan.
All ads can be customized in the in-comments section once the functionality is turned on. Marketers can create and implement a campaign as they would any other using animated, static or video depending on the campaign.