To sponsor or not to sponsor?
A new tool can help sponsors decide which proposal benefits their brand marketing strategies best.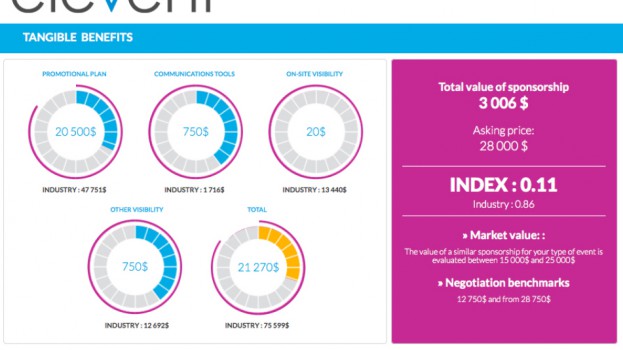 Marketers wondering whether a sponsorship opportunity makes financial or strategic sense for their brand can now turn to a tool to compute the effectiveness of a sponsorship deployment. Montreal-based marketing company Elevent has launched the Elevent Report, an online analysis tool that assigns a dollar valuation to a proposal. It also allows sponsors to see qualitative performance indicators and see how they match up next to other sponsors in the same market.
The tool is the first of its kind to computes tangible and intangible benefits, and hence the "true value" of a sponsorship, according to company partner, Jay Herbert. 
Herbert says the tool was created in response to a noticeable gap in available assessment of sponsorships that he picked up on as a sponsorship consultant. Some agencies and brands were using in-house tools, or outsourcing, to evaluate only major sponsorships.
"The budget attributed to sponsorship evaluations is minimal, and there is a lack of resources available in the market so we wanted to find an innovative business model. A consultant costs a lot more than a tool, and we wanted to put insights back in the hands of the sponsor to use to whatever extent they want to use it."
The tool's algorithm calculates the monetary value of a sponsorship by analysing the visibility and options the sponsorship offers. By inputting the sponsor's communication strategy, including its media plan, organizational goals, target demo and research data relevant to its market profile, the sponsor is able to evaluate a specific sponsorship proposal.
Herbert says the report can be used to evaluate 80% of sponsorships. 
The Elevent Report uses geo-targeted data allowing marketers to analyse the impact of the campaign in specific Canadian markets. The tool currently covers all Canadians markets, has expanded to cover Belgium, with plans to access U.S. markets soon.
All sponsor data is housed in three protected servers that are based in Quebec.