High-rises versus AM radio
Aiming to beat the high-rises blocking its signal downtown, Zoomer Media has added a new twin to its AM740 station on the FM dial.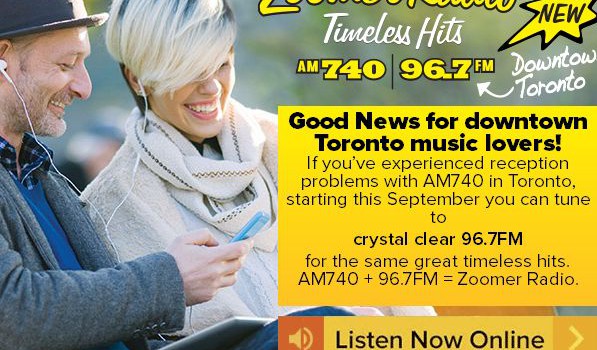 According to Zoomer Media founder Moses Znaimer, operating an AM radio station in downtown Toronto has its challenges.
The media co had been getting complaints from listeners to its AM740 station that they weren't able to get a clear signal for the station downtown, so Znaimer and his team set out to find a solution – enter Zoomer Radio 96.7 FM.
"The AM channel was impeded by high rises and overpasses, and progressively over the years as Toronto got built up, it became more difficult to get the signal downtown," says Znaimer.
The new twin FM station is available within the confines of the downtown core, from the DVP on the east to the 401 on the north, Bathurst on the west and Lake Ontario on the south. Znaimer says his team expects the station to have audience growth of 10% with the launch of the FM station. In the last PPM report, Zoomer Radio AM740 had a 3.6 share with adults over the age of 12, and a 5.4 share with adults over 45.
Positioning of the new FM station also puts it next to Zoomer's other spot on the dial, a "flick of the wrist" from The New Classical  96.3, says Znaimer. Zoomer Radio can also still be heard on the AM station, as well as through an app and online.
Lisa Richler, senior director of integrated sales and director of radio marketing, Zoomer Media, says the addition of an FM version of the station was a chance to give the brand a slight update, adding a new tagline of "Timeless Hits."
Though Zoomer Media typically targets those over the age of 45, 96.7 FM reaches a bit younger, with Richler saying the station is going after anyone who enjoys music that's not getting airtime on pop radio stations, like Frank Sinatra, Elvis Presley, The Guess Who, The Doors, Blue Rodeo, and even Michael Buble.
"We feel strongly that the music we play is made for music lovers," says Richler. "Any Queen St. hipster worth their salt loves the music that we play."
The launch of 96.7FM is being promoted with a campaign that includes a mix of OOH, live radio hits from locations like the Canadian National Exhibition and Union Station, and media placement in Zoomer magazine in print and online. Media and creative for the promotions were done in-house.