Discerning comedy fans only, please
How JFL 42 is carving out a niche in Toronto's crowded events scene.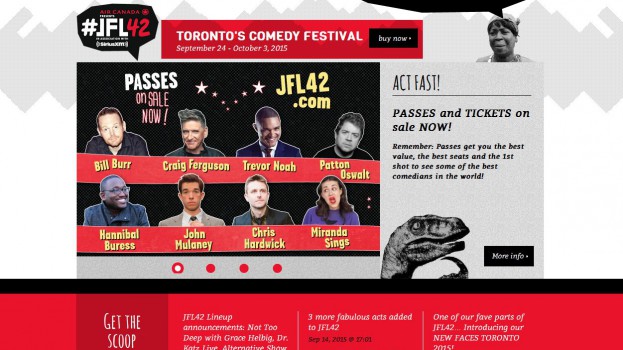 Launching a new event is never a sure thing, even for an established presence like Just for Laughs.
Bruce Hills, COO of Just for Laughs, says although the company has a 33 year-long run in Montreal with its Just for Laughs festival, Toronto's crowded event market started off as a tough sell for sponsors and attendees when it first launched JFL42 four years ago.
One of the main differences between the established festival and the younger millennial-targeting upstart is the crowd Just for Laughs is targeting with the Toronto event, says Hills.
"The Montreal festival targets people 8 to 80, and we do it well," he says. "JFL42 is very clear cut. If you love comedy and are of a certain age we are for you."
Hills says his team is trying to carve out a premium niche of "smart comedy fans" millennials. In the first three years of the festival 58% of attendees were between 18 and 34 and average annual income was $86,200. On average each ticket holder attended 4.3 shows.
Ticket sales for the fourth year are up 35% with just over a week until the Sept. 24 start date. Last year the event sold about 40,000 tickets, this year they are expecting closer to 60,000, says Jordan Harding, strategic alliances representative, Just for Laughs.
Also new this year is a recently-signed three-year partnership with Beau's All Natural Brewery. Signing on as the official beer of JFL 42, Beau's will be the exclusive beer at the Royal Theatre, and will be available at all other venues during the festival.
Steve Beauchesne, co-founder, Beau's Brewery, says the sponsorship is a bit of a departure from the arts work that it usually does. He says activations from the beer company will include ticket giveaways, sampling at some events and Beau's Tom Green beer featured prominently.
Back as returning sponsors are Air Canada and SiriusXM, Air Canada will be activating as the sponsor of all headliner shows at the Sony Centre. It will also bring back its "seat upgrade" contest, giving two spectators the chance to sit front row at each headline show. In addition to those more traditional sponsorship elements, the airline will also be partnering with JFL42 to create content for the brand with comedians at the festival.
SiriusXM is back as a the official broadcaster of the festival, with live shows from the Pantages Hotel during JFL42 from Thursday to Saturday from 11 a.m. to 6 p.m. The satellite radio company is also sponsoring the SiriusXM Top Comic competition, as well as all shows at the Queen Elizabeth Theatre, Royal Theatre, the JFL42 New Faces Series, Homegrown winner, and all Canadian acts at the festival.
JFL42 runs from Sept. 24 to Oct. 3 across venues in Toronto.