Projecting a U.N. message on the big screen
With a heady goal to reach all Canadians, Cineplex launches the international organization's campaign with a screen ad spot and a special activation.
How do you reach seven billion people in seven days? It's the ultimate media challenge, and one that the United Nations thinks it can achieve with an education campaign projected on cinema screens worldwide.  
Richard Curtis, the director from Down Under (best-known for romantic comedies, Four Weddings and a Funeral and Notting Hill), is heading up the international organization's global challenge: to place the United Nations' Global Goals for Sustainable Development campaign, advocating focus areas in the U.N.'s agenda on key issues, before, well, the entire worlds' population.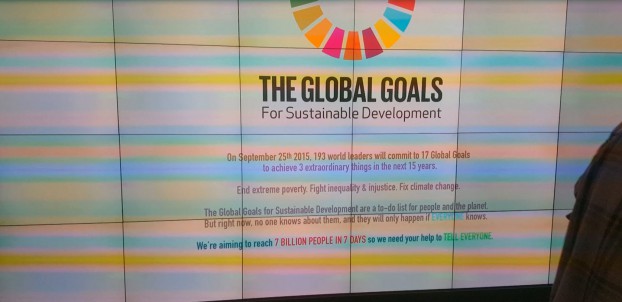 And how will he do that? Starting today (Sept. 25) as U.N. countries sign on to address common global goals to reduce poverty, address climate change, improve access to education and more, a global cinema campaign is being rolled out to educate global audiences about the 17 goals it has highlighted in its campaign for equality. About 1.3 billion people have access to cinema screens, globally.
This is the first global campaign of its kind in partnership with the Global Cinema Advertising Association (SAWA), and one through which a singular message will be viewed in cinemas in 30 countries across the globe. Thanks to SAWA member commitments, some £15 million of on-screen media has been provided by cinema exhibitors worldwide.
"This time they chose cinema as the charter media to communicate the campaign's message because of its engagement and bigger-than-life visuals," says Robert Brown, VP, Cineplex Media, which is leading the charge in Canada.
Cineplex cinemas will run a 60-second ad in its pre-film screening advertising slot. That spot will also be appearing in other cinemas that Cineplex represents, which include Landmark Cinemas and Rainbow Cinemas & Magic Lantern Cinemas, as well as AdFilms. Cineplex Media brokered the placement of the spot on the screens.
The spot, which was scripted by Sir John Hegarty of ad-agency Bartle Bogle Hegarty, has been created by Aardman Animations (Wallace and Gromit) and features a U.N. session populated with representatives of its member countries. However in the Aardman adaptation of a U.N. Assembly session, each rep is an animal, likely one whose existence is threatened. (Spoiler alert: Liam Neeson is the voice of God). There is also an eight-second spot, which introduces viewers to Cinime, the app that that they can download to access more information around the campaign's goals.
Cineplex Media is taking the execution one step further by expanding the campaign into its lobby space through a special activation. Between tomorrow and the end of October 2015, 28 Interactive Media Zones, or IMZs, will host an interactive platform to engage viewers with the campaign's goals.
The cinema's IMZ screens have inbuilt Kinect cameras that can detect motion and guest gestures, allowing the screens to tailor the execution based on who is interacting. The activation is being rolled out on 84″ screens (Cineplex has 46 IMZ units on 44 properties across Canada with a range of screen sizes customized to the theatre space). Visitors interacting with the screen will be asked to choose a goal and will see information pop up related to that goal. They can have their photo taken with the goal overlaid on top of that, and can share it on social with the hashtag #GlobalGoals.
The campaign creative was developed in-house at the company's Waterloo office.
The global campaign is being supported on social with the following hashtags: #GlobalGoals, #TellEveryone and #WehaveaPlan.