New Nintendo campaign marks return to Quebec
The game co is getting nostalgic for its first major push in the province in years, promoting its new Super Mario Maker with three local personalities.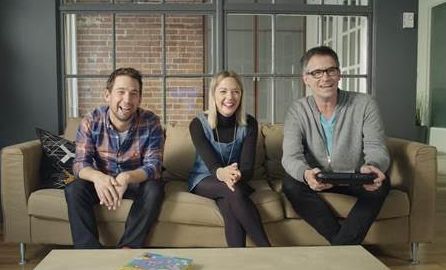 Nintendo Canada is launching its new Super Mario Maker game in Quebec with a nostalgic look back.
Partnering with Bell Media, the game company has launched a campaign with local TV personalities François-Étienne Paré, Vanessa Pilon and Jean-François Baril, each sharing their childhood memories of playing Super Mario Bros. games.
With media by ZenithOptimedia, the campaign marks the first major push for the company in about eight years in the province. The new 30- and 60-second spots aim to connect with adults and parents that also grew up playing the game, focusing on Quebec personalities because they resonate more with the audience.
"Homegrown content is important to people in Quebec, they feel warmest about their own content," says Randy Mauskopf, director, media creativity at Bell Media Sales. "So by asking these stars to participate in the campaign it brings it all to life in a way that's far more resonant in Quebec."
The 30-second spots in the campaign feature each of the personalities individually talking about their own Nintendo memories, while the 60-second spots have the three playing Super Mario Maker together. The game was released on Sept. 11.
The campaign launched this week and runs to Nov. 15. Spots in the campaign will run on Canal D, Z, VRAK and TÉLÉTOON, as well as online at Canalvie.com.

Image (left to right): Jean-François Baril, Vanessa Pilon and François-Étienne Paré