Discovery gets GOing with live streaming
Bell Media has added Discovery to its suite of GO apps, with live streaming capability and a future slate of 4K content.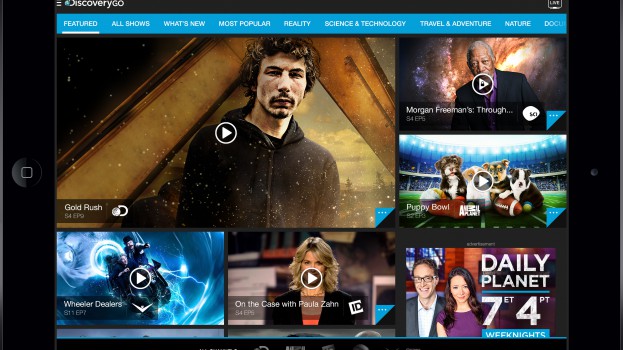 Bell Media has launched premium specialty brand Discovery into the GO universe.
Discovery Canada content will now have a home in a branded, authenticated GO service that will include 4,500 hours of content from its five channels and live streaming capability.
Discovery GO, which can be accessed online, through iOS and Android apps, as well as on TV through set-top boxes, includes content from Discovery, Animal Planet, Investigation Discovery, Discovery Science, and Discovery Velocity. The network plans to add an additional 2,500 hours of content by the start of 2016.
Partner BDUs for the app currently include Bell Fibe TV, Bell Satellite TV, Eastlink, Shaw Cable and Shaw Direct.
The Discovery network joins other Bell Media properties that have existing TV everywhere products, including CTV, TSN and RDS.  
The move to live-stream its content was part of Bell Media's strategy to stay ahead of the game, according to Ken MacDonald, VP and GM at Discovery. "We have all of these top brands and content and we're aware that consumers want to consume these products in many different ways and at many different times – that's the whole purpose of Discovery GO, to provide that broad menu of programming."  
Prior to this the Discovery app did have content on demand but content was not being live streamed and the app's menu content was less robust. The 4,500 hours of content include all the network's most-watched factual programming. Shows like Highway Thru Hell, Deadliest Catch and Shark Week can now be accessed on the go with viewers able to manage their experience by stopping and restarting the shows when they want.
In addition to its well-known and watched content, Discovery GO will also feature exclusive content including computer-generated imagery (CGI) shows like Strip the Cosmos and Strip the City. MacDonald says the app will also include 4K content in the future, including remastered 4K versions include River Monsters, Sharks of the Coral Canyon, Close Encounters and Animal Planet's look at the baby kingdom in Too Cute.