Astral's interactive screen strategy
Jordana Fatsis, VP of sales, on how the OOH company launched its latest offering.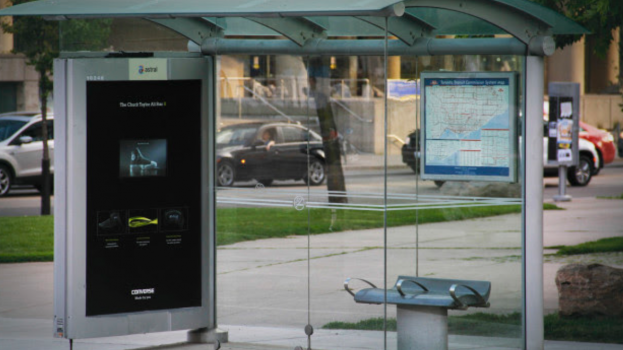 As part of its effort to continue pushing boundaries and providing advertisers with more innovative ways to reach customers, Astral Out of Home announced the launch of TSA Interactive on Tuesday. 
In an interview with MiC, Jordana Fatsis, VP of sales at Astral, talked about the relevancy of interactive display advertising and the process that led to this addition to its tech stack, as well as how Torontonians responded to the technology.
TSA Interactive, which currently includes the addition of 10, portable 22-inch interactive screens in bus shelters in Toronto, will launch its first official campaign with a consumer electronics company shortly.
There is a growing trend toward more interactive screens with OOH placements, as evidenced by the number of speakers who referenced it during the Out-of-Home Marketing Association of Canada (OMAC) conference in Toronto yesterday.
Fatsis, who attended the conference, also noted the focus on interactive marketing. "[We're all asking] what can we do to create more consumer engagement? How can we engage with consumers at different levels?"
Once Astral had secured the bus shelter contract, which was just for the advertising faces, Fatsis says her team returned to the city to ask for permission for more specific executions.
To that end, the city of Toronto gave Fatsis a testing period in July this year to run three campaigns - for Sony, Converse and TD Bank - and to hire a research company to report on the impact of those campaigns on Toronto residents to answer some vital questions: Did residents want this type of interactive advertising or did they find it intrusive? Did they want to see more of it in their city? Did it benefit their awareness and understanding of brands or other brand information?
Sony's execution was focused on the film Pixels, and included a movie trailer as well as an interactive memory "play-for-the-planet" game. Converse used the exposure to highlight the design, structure and manufacturing process of its signature Chuck Taylor shoe, and TD Bank did an arts-focused campaign to highlight its support for local arts. That campaign allowed commuters to conduct music concert searches, watch a music video and see listings for concerts at the city's main performing arts venues.
All clients received a post-campaign analytics report to track views and interactivity by location, day and time. Marketers and agencies will be able to see campaign analysis for future campaigns in real-time, says Fatsis.
Consumer testing for the interactive screens, which was conducted by Ipsos, showed that Torontonians across ages welcomed the addition to their cityscape. During the week of July 24, about 200 respondents were part of Ipsos' face-to-face survey. The results showed that "they really welcomed the technology and they liked that it blended well with the image of the city as an urban and innovative city," says Fatsis.
According to the research, 84% of respondents said they were likely to use the touchscreen again, with that number rising to 92% in the 25-to-34 demo. Some 86% of respondents in that same demo also agreed or somewhat agreed that digital screens improve brand image, with 95% saying that that type of execution helped a brand stand out.
With nine of out 10 respondents saying that they would like to see more interactive screens, the City of Toronto has approved 20 such screens on the street at any given point.