Torstar revenue continues slide
Print and subscription drops hurt the media co's third quarter, as David Holland talks numbers for Star Touch.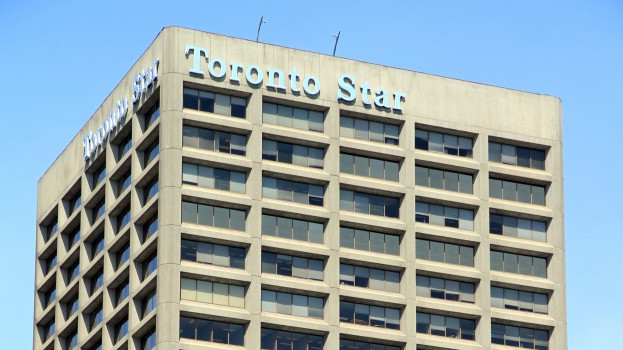 Continuing drops in print advertising and subscriptions lead to a dip in revenue at Torstar for its third quarter. The company reported a revenue dip of 7.3% or $14.5 million for the quarter, from $115 million in 2014 to $106 million for the three months ended Sept. 30, 2015.
Star Media Group's revenue was reported at $79.5 million, down $7.8 million from the same period last year, or 8.9% for the third quarter of 2015. 
Print advertising revenue dropped 13.5% for the quarter, which David Holland, president and CEO, Torstar, said is moderate relative to the year-to-date trends.  National accounts were harder hit for the period, with retail accounts leveling slightly. Revenues at Metro were also down for the period due to a fall in national print ad revenue, and slightly offset by modest growth in regional ad revenue in markets outside of Ontario.
Subscriber revenue for the period was down 1.3% overall for the quarter at Star Media Group overall.

Digital revenue from properties in the Star Media Group for the third quarter was up 5.1% compared with the same period in 2014, primarily due to the strength of gains at TheStar.com. Overall digital revenue at Torstar was boosted by the addition of websites included in VerticalScope, (for which the company paid $200 million in July for a 56% stake). The addition of titles like AutoGuide.com, Motorcycle.com, ATV.com and PetGuide.com, drove digital revenues up 22.8% for the quarter versus the same period in 2014.
Holland says the company is "pleased" with the performance of new digital daily product Star Touch after seven weeks of it being in market. He wouldn't share specific numbers aside from saying that the company expects there to be 180,000 daily users on the platform by the end of 2016, noting his team expects a slow build in audiences. Torstar spent $4 million in Q3 and $5.5 million year-to-date in operating expenses on Star Touch.

Image (ValeStock) courtesy of Shutterstock