Toronto Star's tablet edition lands on Android devices
Having reached a 100,000-downloads milestone, Star Touch is now available for wider downloads.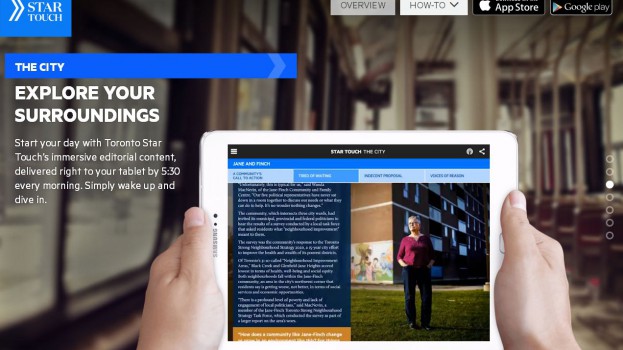 The Toronto Star's newly released tablet edition has now debuted an Android version. The addition of the new platform to the publisher's suite of offerings launched in September this year with Star Touch, a free tablet app designed in partnership with La Presse. The initial app was an iOS app.
Star Touch was a close to $15 million investment in the platform and has operating costs in the $8 to $9 million range during 2015. The publisher's strategy to invest in the free app was inspired by a combination of factors: recurring quarterly losses for its legacy print business due to drops in ad revenue, a hunt for younger readers and the success of La Presse's tablet model, La Presse+.
The Star has followed the La Presse+ model. The Quebec-daily also launched first on iOS. However, it expanded to include Android devices in March 2014 almost a year after its initial launch. Star Touch's Android expansion comes just two and a half months after it first appeared on the market. 
The expanded availability of the app opens up access for the Star to 44% of the Canadian smartphone market. A 2014 comScore report titled "2014 Canada Digital Future in Focus" showed that Android users make up the largest chunk of the smartphone market, with iOS having 37% of market share.
In November John Cruickshank, publisher of Toronto Star, announced that the iOS app had reached a 100,000-downloads milestone. Cruickshank also noted that Star Touch had achieved its initial objective of drawing in younger readers to consumer its content. 

The Star Touch features expanded content originally published in its print edition as well as content that is developed specifically for the app. An example is a series from long-term Star writer and now columnist, Martin Regg Cohn whose two-part series on discovering his late mother Helen's Holocaust survivor story appeared in the print edition. A far more expansive version of that story, which included maps, photographs, an oral history archive as well as timelines and post-war images, was re-purposed for a multi-media treatment on the Star Touch.
Bob Hepburn, director, community relations and communications at the Toronto Star says that the timing of the release of the Android edition was as scheduled. The Star did have a previous tablet app but this redesigned one and readers are spending three times more time on it. 
Advertising clients on the tablet include retail stores, automotive, grocery, jewelry, travel, clothing and financial companies.