CBC plays holiday matchmaker
The pubcaster's Media Solutions team is pairing brands with key scenes this festive season.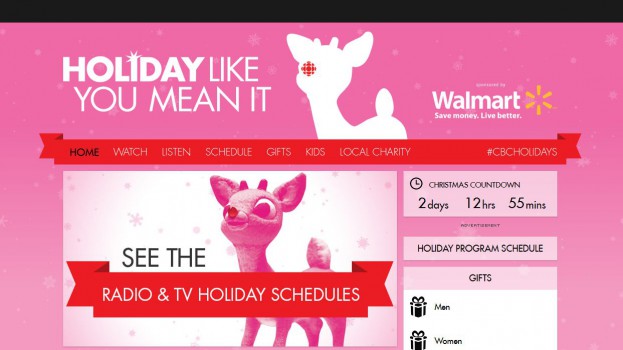 This holiday season the CBC/Radio-Canada have signed on a set of eight sponsors around its slate of festive programming, creating custom campaigns that include pairing brands with key scenes during movies and TV specials.
Jim Kozak, senior director of marketing, CBC/Radio-Canada, says this year's campaigns are all part of the Media Solutions team's mandate to extend brand messages beyond typical commercial buys. Holiday partners to date this season include Walmart, Coca-Cola Canada, Spinbrush, Sunwing and CARSTAR Collision & Glass Service, Metro, Familiprix and FCA Canada.
Walmart had its message of being a one-stop shop for gift-giving positioned during holiday movies like Elf, with lower-thirds appearing during a scene where Will Farrell's lead character is shopping for a present of his own.
Spinbrush has its lower-thirds appearing during scenes featuring big smiles, aiming to position the toothbrush-maker top of mind as a stocking stuffer idea.
At Radio-Canada the holiday season peaks on New Year's Eve during the annual year in review special The Bye Bye. Running since 1968, the show reaches close to four million viewers each year, nearing Super Bowl status for brands looking to connect with Quebec consumers, says Kozak. The show, he adds, had a 90% share with adults 25 to 54 in 2015.
In all, CBC/Radio-Canada have over 60 holiday titles running until beginning of January, including Scrooged, Frosty the Snowman, The 22 Minutes Holiday Special and A Heartland Christmas.