COMB explores new OOH measurement
President Rosanne Caron on how the promotion of Adrian Makurat (pictured) to research director will help the organization meet its 2016 goals.
The OOH landscape is evolving, and the Canadian Out-of-Home Measurement Bureau (COMB) has made a promotion to help create new research to measure all the changes.
Adrian Makurat (pictured) has been promoted from director of research operations at the organization to research director.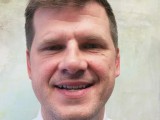 Rosanne Caron, president at COMB, admits the title change is slight, but emphasizes that it's indicative of a new director for the organization.
With OOH technology changing rapidly Makurat's new role will have him looking into new research avenues for the organization. Data from smartphones and automotive-related data are both areas into which COMB is looking to expand this year, says Caron.
Currently the organization gathers local municipal automotive data through a third-party transportation engineering firm, which is then adjusted to reflect a number of variables such as distance from panel, direction traffic is travelling and the number of people in the car. COMB is exploring new sources for audience information while they're traveling, including smartphones, connected cars and route data.
Smartphone data has become more important to the OOH industry with the growth of location-based signage linking and the influx of beacons in 2015. The growth of location-based data spurred eMarketer to call digital OOH out as one trending area for marketers in 2016. Paul Briggs, an eMarketer analyst, quoted a Magna Global June 2015 report estimating DOOH in Canada to have grown by 19.7% in 2015, with predictions for a further 11% growth in 2016.
Caron says that she expects to see overall OOH growth of between 3% and 4% in the Canadian market this year, on par with numbers from 2015.
Areas of particular growth will continue to include digital, with Caron also adding she expects to see further consolidation in the OOH market this year. Earlier this month Cieslok bought large format inventory from Abcon Media in one deal already done in 2016.