Schitt's Creek to return for third season
CBC also announced it has picked up a sixth season of Mr. D.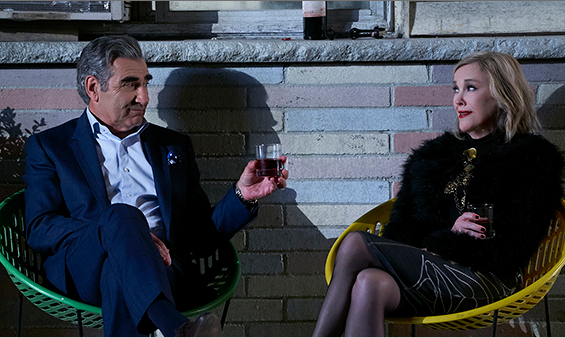 The CBC has renewed Schitt's Creek for a third season, it announced Tuesday, in addition to bringing back Mr. D for a sixth season.
The Not A Real Company half-hour comedy will return to CBC in winter 2017. The series is co-created by Eugene and Daniel Levy, who star in the show along with Catherine O'Hara, Annie Murphy and Chris Elliott. The second season premiere on Jan. 21 pulled in an audience of 949,000 (2+, final confirmed numbers), with the second episode, which aired right after the premiere, bringing in 911,000 viewers (2+, final confirmed numbers).
Mr. D will be returning for its sixth season in the fall of 2016. The series is produced by Topsail Productions and Gerard ADHD Entertainment, and stars Gerry Dee with the ensemble cast made up of Jonathan Torrens, Bette MacDonald, Wes Williams, Lauren Hammersley, Naomi Snieckus, Mark Little, Suresh John, Darrin Rose, Bill Wood and Kathleen Phillips.
The CBC also announced Tuesday it would be ordering new seasons of long-running comedies This Hour Has 22 Minutes and Rick Mercer Report. Season 24 of This Hour has 22 Minutes and season 14 of Rick Mercer Report will both bow in fall 2016.
Schitt's Creek has been nominated for 14 TV Canadian Screen Award prizes, as well as one digital media-related nomination, with Mr. D picking up 12 nominations. The Rick Mercer Report and This Hour Has 22 Minutes also received multiple award noms.