Transat expands its digital presence
The Montreal-based company is enlisting "Expat Experts" to appeal to adventure-seeking, younger travellers.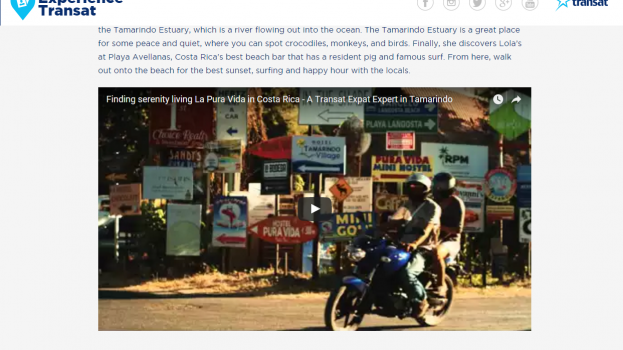 The focus on reaching out to younger travellers continues at Transat.
The Montreal-based travel company has launched its latest digital initiative, aimed at challenging associations with its South American destinations as only sun-kissed retreats for the beach-starved.
Last week the Montreal-based company uploaded "Expat Experts," a digital web series that takes viewers into the lesser known, more local aspects of what to see in Costa Rica, Mexico and Honduras. The videos feature Canadians living overseas who take viewers to the best local joints for food, history and culture in each of the three places.
Genevieve LeBrun, VP, marketing at Transat, says, the experts' "tips and tricks on how to travel off the beaten path are leading travellers beyond the hotel beach and restaurant. We're using their firsthand accounts to help Canadians get the most out of their dream vacation."
Transat, which also operates an airline called Air Transat, flies to 34 destinations in South America and Europe. Over recent months, it has expanded its digital presence in an effort to grow its traveller base beyond the all-inclusive, hotel and airfare packages that have typically drawn an older demo. In an effort to reach younger travellers, the company has been developing a range of web series focused on off-the-beaten-path messaging.
The videos feature Liisa Vexler, an Ottawa native who currently lives in Costa Rica, Kelly McLaughlin of Toronto who lives in Mexico, and Saskatchewan's Erica Macauley, who lives in Honduras.
The company is also growing the content on its Experience Transat blog, which includes photos, blog posts and assorted content from visitors and experts alike.