Danone targets 9-to-5ers with creamy, dreamy snack
The company's campaign is aimed at introducing a new yogurt snack to the urban, health-conscious consumer.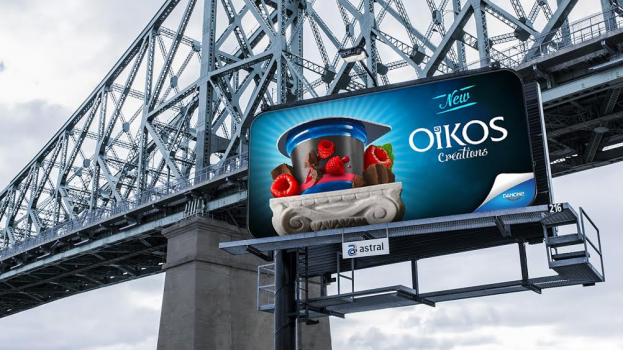 Danone is out with a new product aimed at appeasing the palate of the mid-30s office worker. The yogurt brand has emerged with a new product, Oikos Creations, and has a campaign in market to target its identified consumer.
Oikos Creations is a Greek yogurt product being sold with the tagline, "The Ultimate Dream Snack."
The campaign in market is a multiplatform buy with a heavy focus on digital. That decision was based on an analysis of the profile of Oikos consumers, the time they spend on digital and the medium they use, Franck Escudier, marketing manager at Danone Canada told MiC. Given that the brand's consumer target is heavily engaged on digital and social platforms, Escudier said the focus on digital was strong for this campaign.
Creative for the campaign was done by Montreal-based agency, Saint-Jacques Vallée Y & R, digital was covered by Bam Strategy, media by Carat, PR by Danone Canada and National Public Relations. Point of sale advertising is being handled by Publicis. 

The campaign's digital video execution involves interactive videos with 11 different images. Consumers who click on the ads will be taken to new images, with each image telling one part of a complete story.
That interactive component is new for Danone, says Escudier, who credits media agency Carat for its role in building a more engaging media buy. The target is a consumer in their mid-30s, who is urban and health-conscious, he says. "We want to reach them when they are in a snacking moment, during work, or in the evening at home."
Digital display ads include standard formats and masthead domination on YouTube. And the campaign's social component includes paid buys on Facebook and Instagram.
TV was also a significant part of the campaign. A 30-second spot is aimed at reaching a mass audience to build brand awareness for the new product.
In the spot, a young man gets transported to a land of aquamarine water and mermaids nestled on rocks every time he takes a bite of the "dreamy" snack.
Danone took home the bronze in the Off to a Good Start category at the 2016 Cassies this month for its "Dream" marketing campaign. The current campaign expands on the success of its 2015 campaign bringing back the campaign's star performers Simon and Daniela, says Escudier.
Media strategy for the campaign, which will be in market until the end of March, includes the 30-second TV spot in both English and French Canada, specifically on TVA, CTV, Global, City TV and CBC.
The OOH component of the campaign varies by market but focuses on Montreal and Toronto, on digital boards in downtown areas where 9-to-5ers are most present. In both cities there will be advertising on digital boards, with transit shelter advertising in Toronto and 14 by 48 street columns in Montreal. In Edmonton and Vancouver the campaign will be seen on digital boards.