Mobile to drive ad spend growth in 2016, 2017
According to Warc's latest global report, the medium is expected to be the primary driver for a 4.4% increase in global ad spend in 2016.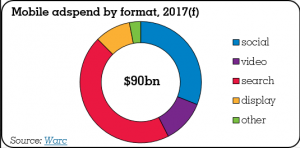 The surge in mobile consumption is sparking  increased investment in ad spend to target consumers on their personal devices, according to the latest Warc report.
The U.K.-based marketing intelligence firm has released the summary of its findings from its annual Global Adspend Outlook, which draws on expenditure data from 93 markets, GDP rates and consumer spend forecasts to arrive at its ad spend predictions.
According to the report, global ad spend will rise 4.4% to $561 billion in 2016, a significant rise from the 3.1% growth rate registered in 2015. However, the firm expects that growth will shrink to 3.7% in 2017. The growth estimates match the firm's projections issued at the end of 2015.
The growth in advertising in 2016 and 2017 is partially attributed to two events: the Rio Olympic Games and the U.S. presidential election race. A third of global ad spend growth for 2016 is expected to be a result of both these events. The anticipated 4.9% growth rate for this year was last seen in 2012 when the two events last coincided.
In 2017, growth will continue to be attributed to mobile, which is expected to cover 44% of all online ad investment to the tune of $90 billion. Search ($40 billion) and social ($28 billion) and video ($10 billion) spending, says Warc, is in keeping with the consumer consumption behaviour. In 2015 $48 billion was spend on mobile advertising.
The surge in mobile ad spend comes as spend on desktop plateaus at $112 billion, with declines anticipated through 2016 and 2017.
While North America will continue to be the largest ad region globally seeing a 4.7% growth in 2016, Canada's contribution is not expected to be significant. Warc estimates that Canadian ad spend will see modest gains in 2016 and 2017,
Globally, the fastest growth is anticipated to come from the Asia-Pacific region – specifically China, with an increase of 6.2% in 2016 and a 5.6% growth in 2017, amounting to $167 billion overall.