Dairy Farmers of Canada brings its product to the streets
The national organization has partnered with Metro to create street-side milk cartons as part of its latest campaign.
The Dairy Farmers of Canada is taking its latest message directly to the streets, partnering with Metro to create a set of 75 custom newspaper boxes.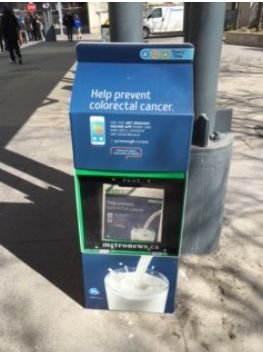 As part of a campaign with media from Initiative and creative from KBS Montreal, the dairy organization partnered with Metro to create newspaper boxes in Toronto, Halifax and Montreal that look like cartons of milk. Carolyn Sadler, VP of sales at Star Metro Media confirms that turning the boxes into cartons is a first for the media co.
The custom cartons are part of the Dairy Farmers of Canada's "Get Enough" campaign, which centres on generating awareness and prevention around a different cause each quarter. The current focus is on colorectal cancer.
In addition to the milk cartons, Metro is promoting the Dairy Farmers of Canada campaign with cover wraps on Metro print editions as well as digital billboards and videos that will run until the end of April.
Nathalie Savoie, assistant director of nutrition, Dairy Farmers of Canada, says that the organization's health focus has been in place for a year. In addition to colorectal cancer the organization also supports heart and stroke  in the summer and osteoporosis in the fall.
"The newspaper box wrap is a new thing for us," she says. "We're trying to include more innovation in our media plans so we can cut through the clutter and get more Canadians on message."