TVA introduces digital newsstand
The new service Molto joins a growing number of digital newsstand services aiming to capture the attention of magazine readers across platforms.
Publishers vying for eyes on their legacy publications are seeing the writing on the wall: readers aren't picking up enough copy off the traditional newsstand.
So in order to keep eyeballs coming to its magazines' pages, the TVA Group has created Molto, its own digital newsstand.
The monthly subscription for the service will include the group's 30 magazines, and is being offered in three different packages: $8.49 for all-you-can-read and two interest-based packages (cooking and home decor), each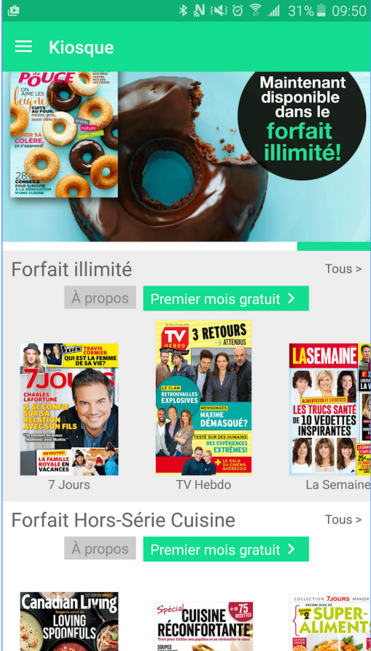 priced at $5.49 monthly.
The move is aimed at making the TVA Group's magazines more accessible, said Lucie Dumas, VP content, group publisher at TVA Publications. Titles include Coup de pouce, Canadian Living, 7 Jours, La Semaine, Elle Québec, Elle Canada, TV Hebdo and Chez Soi.
Other publishers have also been responding to declines in both print advertising and in sales of single-copy issues of their publications. Rogers Media's Flare magazine, for instance, is no longer sold at physical newsstands. At the start of this year the publisher decided to distribute the print version to subscribers only, while promoting its availability on Texture, the digital newsstand service of which Rogers Media is a partner.
The TVA Group won't be following that model precisely. Dumas says print remains a core part of its business model, and while readers are moving away from print, the publisher's research showed that the profile of the average magazine reader isn't a black-and-white one.
"What we discovered was that the pattern of consumption of magazine content is evolving but not as fast as we thought it would. People want certain kinds of magazines like fashion magazines (Elle Canada, Elle Quebec) as a paper purchase. They have a relationship with one magazine that they feel like buying. But that same person who would buy a single copy will sit through Molto and flip through hundreds of magazines."
Diminishing reach is one part of the complicated struggle for eyeballs. At the close of last year, IAB Canada released its annual report documenting Canadian media usage trends. According to that report, which compared numbers from 2001 and 2015, offline media has seen a decline in weekly reach, with magazine reach dropping from 73% to 49% during that period.
The move also follows continued advertising revenue declines for the print medium. According to the latest WARC report, global ad revenue for the print medium suffered significant declines. While digital is expected to post double digit ad revenue growth, both newspapers and magazines are expected to see a slide in ad revenue of 6.5% and 7.7% respectively.
However, one of the challenges facing publishers has been the lack of data to measure the effectiveness of digital platforms. Earlier this year the Alliance for Audited Media announced a new circulation category called Multi-title Digital Programs, with the aim of providing a clearer picture of media consumption in the unlimited-access digital magazine distribution space. That measurement will include the likes of the Texture app, Magzter, Zinio and Readly, as well as the newly born Molto. 
Molto is available on both iOS and Google Play and readers will be able to sample the product for free for the first month. The publisher is working on developing partnerships with other Canadian and global publishers to include other publications as part of Molto.