Canadian Young Lions finalists revealed
The gold winners will be announced at the CMDC Conference on April 26.
The Globe and Mail has released the list of finalists for the 2016 Canadian Young Lions and Young Marketers. The publisher, which is Canada's official representative for the Cannes Lions, International Festival of Creativity, announcement the shortlist across five categories: media, print, film, cyber and marketers.
The winners, who will be heading to Cannes for the festival, will be announced on April 26 during the CMDC Conference.
This year some 359 teams registered to compete for the sought-after spots, compared with 287 teams last year. Gold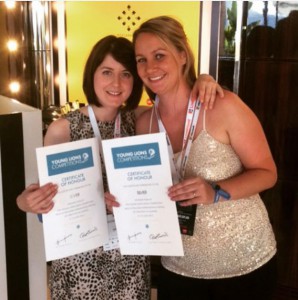 winners from each category will represent Canada at the global Young Lions and Young Marketers competitions between June 18 and 25.
The 11-member jury (which includes Cathy Collier, Helen Galanis and Jeff Dack) judged the entries for the media category.
Last year's winners (pictured, right) in the media category were Megan Metzak, national account manager at Olive Media and Celia Gibb, senior communications strategist at M2.
Young Lions – Media
- Alyssa Agnew and Rachelle Dobson, Touché! Media
- Arslan Shahid and Majid Behboudi, Klick Inc
- Catherine Dorion and Jacob Guité-St-Pierre, DentsuBos
- Kayleigh Forbes and Brittney Stephenson, Starcom
- Marissa Fischer, Starcom and Geoffrey Morton, Carat
Young Lions - Print
- Joshua Lessard and Lian Benoit, Sid Lee
- Jake Bundock and Andrew Chhour, Rethink
- Jordan Darnbrough and >Nethmie Hettiarachchi, Havas Worldwide
- Ioana Rucareanu, Edelman Toronto and Darya Klymenko, Leo Burnett
- Adam McDade and Emmanuel Torres, Clever Samurai
Young Lions - Film
- Michael Appleby and Ihar Turtsou, SapientNitro
- Kohl Forsberg and Emma Wathan, john st.
- Julia Milstone-Turner and Samuel Sferrazza, Route Eleven
- Jordan Hamer and Spencer Dingle, Lg2
- Shauna Roe and Mary Soroka, Leo Burnett
Young Lions - Cyber
- Alex Bird and Sheldon Rennie, Rethink
- Sally Fung and Jason Soy, Leo Burnett
- Sarah Cody and Matthew Morris, Cundari
- Jenny Luong and Martin Stinnissen, john st.
- Jess Toye, BBDO and Kaidy Wong, zulu alpha kilo
Young Marketers
- Farhan Ali, Proctor and Gamble and George Wong, PepsiCo
- Samantha Finkelstein and Danica Nelson, TELUS
- Christian Di Vincenzo and Olena Sapojnikova, Lexus Canada
- Tiffany Gonsalves and Tyler Rochwerg, Johnson & Johnson
- Brittany O'Bright, MolsonCoors and Amanda Secor, Heineken