Exploring a new frontier for experiential advertising
With Cineplex's new 4D theatre opening in Toronto this summer, advertisers can leverage the tech to give viewers a feel for their products.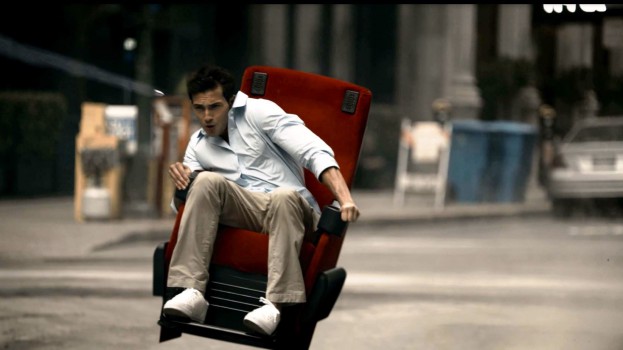 No matter how well-filmed a car ad commercial is, seeing a car ripping its way down a stretch of breathtaking coastline doesn't quite replace the experience of actually driving it.
Unless, watching the ad feels like being in the driving seat.
4D enthusiasts around the globe are already being exposed to the commercials in which they can experience the smell of rubber tires, floating mist or moving seats. And the trend is spreading, with 4D theatres springing up in international markets over the last three or four years, with over four dozen in Latin America and 30 in Mexico.
Last week Cineplex announced the first Canadian 4D theatre will open its doors in Toronto  this summer. Currently under construction at Cineplex's  Yonge-Dundas theatre, the build will see over 300 seats ripped out to accommodate an 88-seat space with additional space to accommodate the kind of movement required to activate 4D effects.
Cineplex has not made public the specific date of the theatre's opening, the film that viewers will be able to see or the prices that they will be charged..
However Cineplex Media is exploring how it will work with brands to expand the 4D opportunity to them, according to Sarah Van Lange, director, communications.
"Working with CJ 4DPLEX presents huge opportunities for Cineplex Media, as the new 4DX auditoriums will open the door to 4D advertising in Canada, Van Lange told MiC. Cineplex would work with their advertising partners and connect them to the CJ 4DPLEX team in LA where the content programming would take place."
The company will be selling pre-show ads on its 4D screen, with the option to develop a 4D experience.
That's something that Cineplex's 4DX partner, CJ 4DPLEX can develop. The L.A.-based shop opened its doors in L.A. in 2011 and has the technology to layer 4D immersive tech onto film and advertising creative. Campaigns across Middle-Eastern, Latin American and Eastern European markets have included spots with brands like Dodge Charger, Audi, Triton Dark, Nestle Cafe, Brahva Gold, 7Up and Ford Explorer. One campaign has also been run by the government of the Dominican Republic.
Brandon Choi of CJ 4DPLEX told MiC that brands in some markets are actually developing creative in 4D.  But when 4D elements are added to campaigns, Choi said the cost varies on what and how many components are involved, with the cost of 4D conversion being four to five times more expensive per second in comparison with the original creative.
Exhibitors and CJ 4DPLEX have negotiated a range of partnership models with advertisers in overseas markets. Choi points to different ways in which advertisers can be a part of the 4D exhibition space. In Prague, for instance, Samsung had a two-year contract to "own" a screen, in which it had exclusive advertising rights, as well as signage around the theatre and naming rights.
CJ 4DPLEX has also negotiated exclusive deals in other markets as it did in Korea, with KIA, which not only shot its creative in 4D but also took over a cinema for a long-term contract. Insurance company AIS followed a similar model in Thailand as did Philips in Mexico.
Elsewhere multiple advertisers have partnered with exhibitors to bring their ads to viewers.