NewFronts: Big Bird and the NBA join YouTube in New York
The Google streamer announced programmatic guaranteed for DoubleClick Bid Manager, and also unveiled partnerships with the NBA and Sesame Street.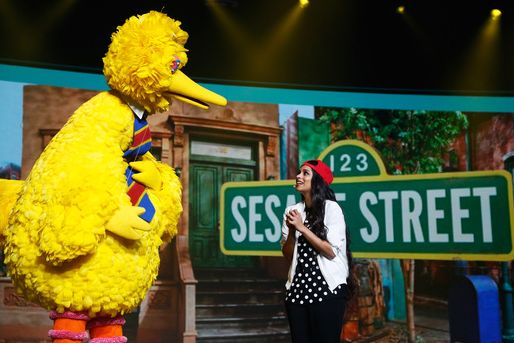 With over eight million subscribers to her platform Lilly Singh might be a bit biased, but she took to the stage at last night's YouTube NewFront to say the time for second-guessing the popularity of the platform is over.
"Gone are the days of testing this platform," she said. "That is soooo 2013."
The Google-owned streamer announced a set of new deals and initiatives, including a U.S.-only pact with Magna Global that will see the holding company's agencies shift $250 million in client dollars to the platform.
NewFront news with an impact on the Canadian market included the introduction of programmatic guaranteed buying through the Google DoubleClick Bid Manager. That means all video campaigns, including TrueView, Google Preferred and cross-exchanges, can be managed from one place. And brands can incorporate their own data into the platform to serve the most-relevant creative to audiences within Google Preferred.
Also announced was a deal to have NBA highlights appearing in Google search and across YouTube as part of Google Preferred. The league will also partner with YouTube to launch two new virtual reality shows on the platform, which will give viewers behind-the scenes access to the league's stars and arenas. Adam Silver, commissioner of the NBA, told the NewFront crowd that 60% of its 700 million views on YouTube in the past year came from fans outside of the U.S.
Not to be outdone, Big Bird took to the NewFront stage to introduce Sesame Studios, a new educational YouTube channel from the creators of Sesame Street. The channel will feature new characters as well as YouTube stars like Todrick Hall, and will live on YouTube Kids. The company also announced that the YouTube Kids app has seen over 10 billion views globally in a year.
Meanwhile back in Toronto, last week YouTube officially opened YouTube Space Toronto, a place for creators with over 10,000 subscribers to learn about the platform and shoot content. The company hired Mark Swierszcz, formerly of Bell Media, to lead the new space.
Image: Big Bird and Lilly Singh at the YouTube NewFront