Sleep Country gets into bed with Erin and Darren
The retailer has signed on to sponsor the popular 98.1 CHFI morning show.
Radio is a great way to reach Canadians just as they are climbing out of bed and preparing for another working day.
So believes Sleep Country Canada, which has just announced its official sponsorship of the 98.1 CHFI morning show Erin and Darren in the Morning. 

Dave Friesema, CEO of Sleep Country, stated in a press release that the radio show was a natural ally because of the company's success in reaching customers through placements in the show in the past.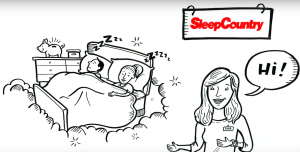 Sponsorship for the show includes educational messaging about sleep styles and needs that will be integrated into its programming. In addition, listeners will have opportunities to win free giveaways from the mattress brand.
The partnership made sense also on account of 98.1 CHFI's mandate to "help listeners start their morning off right," according to Friesema.
There are 59 Sleep Country locations across the GTA. The show on 98.1 CHFI airs between 5 a.m. and 9 a.m. every weekday morning.